The Golden State Warriors are one hell of a formidable basketball crew, insanely fun to watch, versatile, and with three games left on their schedule, they're likely to tie or set the league record for wins in a season. The team they're threatening is arguably the greatest the league ever saw: the Bulls of 1995-96, the most inevitable champions in any major sport during my lifetime. They had three future Hall of Famers at their peaks, and a fourth coaching; the best offense and best defense in the league; the revenge-tour factor coming off the last playoff series in which Michael Jordan, oddly, did not refuse to lose. The Kemp-Payton-Schrempf Seattle SuperSonics took them to six games in the Finals, handing the Bulls two of the three losses they suffered in the playoffs. Fivethirtyeight's advanced player stats rate those Bulls the strongest team in league history.
Could this year's Golden State team have beaten that juggernaut in the playoffs? These Warriors have, so far, reeled off a 28-game win streak; cemented Steph Curry as a repeat MVP; orgiastically poured in record 3-pointers; racked up the best-ever effective field-goal percentage; and done it all as repeat champs missing their coach for half the season, while Steve Kerr was laid out with a bum back. Fivethirtyeight's ratings say the Warriors peaked in December with the second-highest ELO in league history (after Chicago)—so good, in fact, that the San Antonio Spurs' highest-ever rating came by beating the Warriors in March. Also, Steph Curry is a cheat code.
Setting aside their respective CVs, the old Bulls and the Warriors have been a blast to behold. A hypothetical seven-game series is an epic sports debate waiting to happen. Or, maybe, if you're the Chicago Tribune's Bernie Lincicome, fuck it, I guess, why do we even talk about these things, Bulls sweep.
Lincicome, who's actually not as bad a writer as this column would suggest, mounted a screed this weekend for the Bulls over the Warriors. Here's the crux of the thing:
Argue that the record-setting Bulls were not as good as the Lakers whose mark they passed, or several editions of the Celtics, and say they are iffy against the Shaq-Kobe Lakers or the Lebron-Wade Heat. Say they might not be even as good as themselves the very next season, when the Bulls won three fewer games but dominated start to finish, meeting expectations and overcoming monotony.
But they certainly were better than the Warriors of any time, including the title team with Rick Barry.
G/O Media may get a commission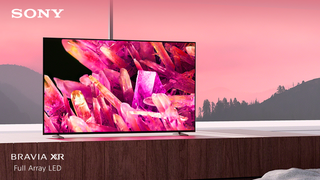 $400 off
Sony 55 Inch 4K Ultra HD TV X90K Series
This looks like the start of a real discussion, right? Well, to back it up, he marshals the following pieces of evidence:
1. "Old Bulls scoff, such as Scottie Pippen and Ron Harper, as well they should. Old foe Charles Barkley laughs out loud."
Actually, that's it. That's the full list of facts. The rest of Lincicome's case reads like a neighbor yelling at kids to get off Michael Jordan's lawn. He can name one one current Warriors player (Andrew Bogut, who, as no one cares, is from the same country as the Bulls former starting center Luc Longley) and a bunch of old Lakers. He points out, rightly, that a lot of teams in sports that win a lot of games go on to lose championships to other teams. He appears to have already forgotten that Golden State won a championship last June, or he didn't notice at the time.
This is the wrong way to watch basketball! So you got press-box seats to a magical mystery team blowing out the NBA Jam-era greats for a few seasons. Rad, man, we all got NBC in those years, too. That doesn't keep the rest of us from marveling at what the Warriors are accomplishing, or wondering about how that series would be decided. First, what committee guards Jordan? Next, who do you put Pippen on—Curry, Klay Thompson, or Draymond Green? Does the game come down to whether Green can box out Dennis Rodman?
If you're Golden State, do you focus on forcing the tempo or pulling the Bulls' bigs out to guard the perimeter? If you're Chicago, how do compensate for the Warriors' size advantage and your lack of a true front-court scorer? And in what era do we hold this game, anyway? As Kerr points out, in gently dodging the question: "With the old illegal defense rules, we would've had a hard time guarding the post. But now we can flood the strong side in a pseudo-zone. Back then you could hand-check, now you can't hand-check. It's hard to make a comparison if you're really looking at it objectively, so I don't even bother."
Let's do it both ways: Liberal hand-checks to get the feel of those vintage Pistons-Knicks-Bulls mosh pits, plus whatever zone-defense scheme descends on Jordan when he starts backing down Andre Iguodala. You get Kerr matched up against his mentor Phil Jackson, but maybe we do it before Jackson ever tweets, and still has some mystique.
Or you can skip all that and just file the hottest of hot takes that says all the basketball anyone needs to care about happened 20 years ago and will never happen again. Because, for real now, Bulls in six.