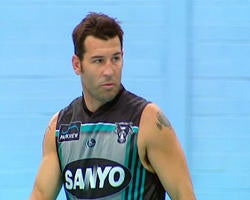 The Australian sporting landscape seems to have a different breed of derelicts than our own. When our athletes misbehave, someone ends up getting shot in a Vegas strip club. When Australian athletes misbehave, they walk naked around a resort and proposition the daughter of a sporting legend.
Deuce of Davenport introduces us to Craig Gower, the star player for the Penrith Panthers of the Australian Rugby League. Gower's most recent transgression involves him biting a dude on the neck in a night club. Here's his rap sheet:
• Was accused by security staff at the Peppermint Lounge of kissing another guy, and then biting him on the neck, which resulted in a brawl.
• Was accused of harassing and groping the daughter of Rugby legend Wayne Pearce at a charity golf event. Also accused of threatening Pearce's son afterwards.
• Held a plastic butter knife to the throat of a radio broadcaster.
• Walked naked around the resort.
• Exposed himself to an Irish tourist in Sydney.
• Is currently a co-captain of the Penrith Panthers, and has served as the captain of the Australian national team.
So much more creative than "making it rain."
I didn't kiss and bite dancer: Gower [Sydney Morning Herald]
Time for Craig to face demons [Sydney Morning Herald]
Blood On The Dance Floor [Deuce of Davenport]