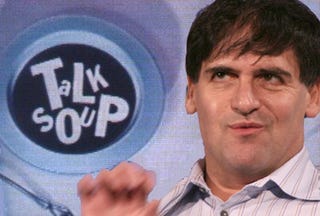 Mark Cuban let loose a expectedly jaundiced reaction to David Stern's mandate to allow bloggers into the Maverick's locker room, choosing the preferred broad brush of bloggers as the snarking "internet equivalent of Talk Soup or VH1's 'Best ..... ' series." It's problematic that he frames the separation as unpaid-hacks-versus-paid-professionals, since, of course, it was a paid newspaper writer/blogger who prompted the ban in the first place.
With Mark's open invitation to all bloggers regardless of age and experience, some are mulling whether they want to play into Cuban's ploy, which, as Hardwood Paroxysm notes could stands to potentially lower the credibility tide for all ships, while not really providing all that much of a benefit.
It's already playing into the hands of the usual (knuckleheaded!) enemies of the medium, as Mister Irrelevant digs up another wrong-headed BUT COMPLETELY LEGITIMIZED BECAUSE HE'S EMPLOYED BY WAPO AND ESPN rant from Michael Wilbon's clip file of uninformed ramblings.