The Cubs have yet to get a handle on this curse business, no matter how hard they try. While a priest was furiously blessing their dugout (this is true) before their Game 1 NLDS showdown with the Dodgers on Wednesday, outside of Wrigley Field another drama was unfolding. A man by the name of Jim Schererville was trying to get his pet goat, Tito, into the game, and of course was having no luck (the goat's Harry Caray disguise did not help, strangely enough). Given the Cubs' track record with goats and curses, the two events canceled out each other and Chicago settled back into their comfortable 100-year niche of post-season suckdome, losing 7-2. If Chicago goes on to lose this series, their Holy Dugout moment may be the only thing that fans remember.
The Cubs brought a heavy hitter to Wrigley Field on Wednesday afternoon, asking the Rev. James L. Greanias, a Greek Orthodox priest from St. Iakovos Church in Valparaiso, Ind., to spread holy water around the dugout to remove an alleged curse that has hovered over the ballclub since its last World Series appearance in 1945.
Actually make that 1908, since the Cubs lost that World Series. But who's counting? Certainly not Ryan Dempster, who didn't seem to be blessed with much control on Wednesday. Dempster, who appears to have been seated in the one spot in the Cubs dugout that Rev. Greanias missed with his aspergillum, tied a career high by walking seven over 4 2/3 innings, including three in the fifth. James Loney and Manny Ramirez, meanwhile, each put the biscuit in the basket to remove Chicago's home-field advantage. Nothing the Cubs tried worked very well on this day. One Wrigley fan even tried to take out Manny with a baseball, to no avail.
A 31-year-old man was arrested Wednesday night at Wrigley Field for allegedly throwing a baseball at Los Angeles Dodgers outfielder Manny Ramirez during last night's Cubs playoff game. Paul Solans, whose address is listed in the 2200 block of North Lincoln Avenue, was charged with misdemeanor reckless conduct for throwing the ball at Ramirez while the All-Star left fielder was playing his position, police said early Thursday. Ramirez, who hit a home run during the Dodgers 7-2 victory in Game 1, was not hit by the ball. Police said Solans was attending the game but could not say where he was sitting.
By the way, the Cubs have tried this holy water cure before. Didn't work then either.
Holy Water! Cubs Manager Tries Sprinkling Cure [NBCSports] Fan Charged With Throwing Ball At Manny Ramirez [Chicago Tribune] Dempster's Wild Night Costs Cubs [Chicago Tribune]
G/O Media may get a commission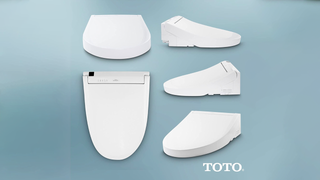 44% off
Toto Washlet Electronic Bidet Toilet Seat