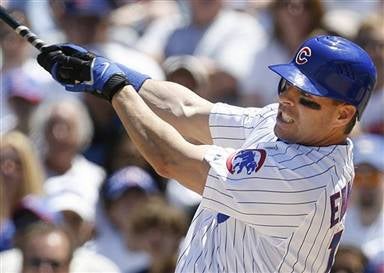 So Chicagoans awoke this morning, poked themselves with sharp objects and discovered that, no, they weren't dreaming. As the sun came up on the month of June, Cubs fans found themselves with the best record in baseball; the first time that has happened so late in the season since Heinie Zimmerman and Orval Overall toiled for North Siders in the mystical World Series title year of 1908. Meanwhile, the White Sox teeter on the brink of disaster. We know that because we saw this on Ozzie Guillen's desk today.
Scientists explain it all like this: Jim Edmonds tripled and drove in two runs on Sunday, ripping a hole the time-space continuum and sending the Cubs hurtling into an alternate dimension, where up is down, day is night and the Cubs blogs are using John Denver lyrics for headlines. Chicago beat Colorado 5-3 on Sunday to finish its homestand 7-0; the first time the Cubs have swept a homestand of seven or more game since 1970. That's 1970, my friends; when their streak without a World Series title was only 62 years old. Part of the success can be chalked up to good karma from moments like this. But mostly it's because Chicago has eight players hitting .295 or above; Carlos Zambrano and Ryan Dempster are having monster seasons, and they've played 34 of their 58 games at home.
But the Cubs play 23 of their next 32 on the road, including series with the Dodgers, Rays, Braves, Orioles and Cardinals. If they're still afloat after that, we'll talk.
• On The Southside Of Chicago, The Baddest Part Of Town. Meanwhile, Ozzie Guillen issued threats in a calm, rational way on Sunday; and that's when you've got to start worrying. Tampa Bay beat Chicago 4-3 in 10 innings. "Just be ready because I expect movement Tuesday," Guillen told the Chicago Tribune after the Sox went 2-for-14 with runners in scoring position. Gabe Gross' walk-off homer off Matt Thornton on an 0-2 count in the bottom of the 10th inning was the crowning touch. "I expect (general manager) Kenny Williams to do something Tuesday, and if we don't do anything Tuesday, there are going to be a lot of lineup changes. That's all I'm going to say about the offense."
• Shake, Rattle And Roll. A day after Brandon Webb shut them out 4-0, Dan Haren went seven innings in a 5-0 victory over the Nationals as the Diamondbacks earned back-to-back shutouts for the first time since May of 2006. Orlando Hudson had a three-run homer.
• Phil Of The Future. Chase Utley is the first to 20 homers, and Pat Burrell had a two-run double as the Phillies ascended to first in the East with a 7-5 win over the Marlins. Jamie Moyer, whose age cannot be determined until the results of carbon dating are complete, was the winner. Mike Lieberthal did not play.
• Manny Gets Right To Work On Second 500 Homers. Manny Ramirez hits his 501st homer, had three hits and drove in three runs as the Red Sox beat the Orioles 9-4.
• Wizard Cat Defensive Player Of The Day. Security Guy, Boston Red Sox. Actually we're not sure when this occurred, but this great defensive stop must be honored. The misdirection technique employed here is often used by wolves to take down prey in the wild, and also by those Sex and the City women to find husbands. But why Chinese soldiers did not use it against his woman is anyone's guess. Wizard Cat gives this play: Four wands. [Via Big League Stew]
Contact Wizard Cat at Wizardcat@live.com