AJ Daulerio's Cultural Oddsmaker runs every Friday. Email him to let him know what you think.
The New Orleans Saints have been a nice, inspirational story since that little precipitation problem they had a couple years back. Yes, God owes New Orleans a huuuge apology and a giant squeegee, but hopefully his way of contrition doesn't involve a Saints victory Saturday night. That would completely ruin my smoky evening at the Boathouse in Conshohocken (former home of Ruffhouse Records. Fu-Gee-La-La...) where I'll be watching the game.

Remember? There is a football game this weekend. However, if the Saints win, the NFL will in some way take some credit for saving the broken city. Just bear in mind that the Superdome is only a symbol of hope and renewal to some people; to others, it's still the "hot, crowded building where I stayed for 10 days eating diaper sandwiches and using my dead grandmother as a cot." Even though there is no time for such dreary sentiment, when there is football, Fox will make sure that, regardless of what transpires on the field, you — safe, dry football fan — will not forget that a little less than two years ago, Naw'lins was almost Atlantis.
So this week, I'm putting on my FEMA windbreaker, building a boat out of a pizza box and garment bags, and placing odds on some of the ways Fox and the NFL will go about referencing the Katrina tragedy throughout Saturday night's Eagles/Saints game.
Let's boil some craw daddies, after this jump.
G/O Media may get a commission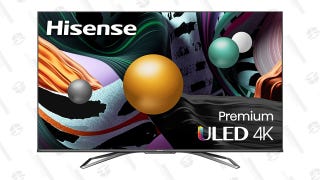 Save $350
Hisense ULED 65" Android 4K HDR Smart TV
Zydeco Musical Interludes: 1/5
Nary a gamebreak would be satisfactory unless it had generous amounts of horn, accordion and washboards to accompany Fox's football robot. Instead of running in place, or loosening up its neck, I'm suspecting they'll have it doing a Mamou Jitterbug instead. It'll be a subtle reminder that even though part of the area is still a massive grave, everybody's still festive when they hit the Big Easy — especially animated robots.
One-on-One Interviews About the Magical Season: 1/4
Prior to the game, Fox will have sit-downs with Sean Payton, Joe Horn and Reggie Bush about what it means to be a part of this team, this year, and how it has affected the city. They'll talk about how winning is more meaningful to them. How each victory is a gift to a once joyless town. How each touchdown becomes more important and is a statement on humanity. And most important, how Sean Payton's downfield offense matches up against Jim Johnson's blitz happy defense.
The 9th Ward Dance Team: 4/1
What better way to show support for the people of New Orleans and help with the revitalization program than to showcase some of the culture which blossomed in the face of tragedy? These brave women passed the time waiting for federal aid by working out dance routines on their dilapidated roofs. This Fox halftime show was brought to you by "Stomp the Yard," in theaters now!
Moose Johnston's Anecdotal Musings: 5/1
Johnston's job this weekend is to add color to the game in support of Dick Stockton's commentating, and what better way to do so in New Orleans than to give proper perspective and analysis about the field of play?
Stockton: "Pass complete to Colston at the 38 yard line where he's pushed out of bounds..."
Johnston: "Yes, Dick, and it should be pointed out that where Colston caught that ball, that area was where many victims reported seeing various sexual assaults and robberies at gunpoint when they were forced to stay here against their will during the rescue efforts. Goose, you were down there before the game? Can you tell us a little more about that?"