PYEONGCHANG, South Korea — It's about 36 hours before the Opening Ceremony and in a stadium in the coastal city of Gangneung, there's a packed house for the first event of the 2018 Olympics: mixed doubles curling. I assumed everyone in attendance would be there to extrapolate geopolitical tensions from a match between the U.S. and the athletes from Russia, who compete in neutral uniforms under an Olympic flag as part of the penance for the country's past doping infractions. That was before I realized that four different matches would take place on the ice simultaneously and one of them pitted the South Koreans against Finland. Huge crowds of hometown fans in matching blue beanies and elaborate headbands—featuring Korean flags, flashing orbs, or Pyeongchang! signage—erupt into cheers after nearly every shot. But occasionally, when the Koreans are quiet, you can hear the cowbell.

It's coming from a group of Americans decked out—down to the manicures—in red, white, and blue to cheer on Matt and Becca Hamilton, siblings representing the U.S. in what is a new curling event at the Olympics. These are not just any curling superfans from Minnesota—although they are that—the group includes team physiotherapist, Brian McWilliams, and the family of Joe Polo, a member of the men's curling team.
"It's quick, it's a really quick, fast-moving game and it's all offense," John Polo says of the new format. It's tough to get anyone associated with a team here to say something meaningful about how the doping sanctions might impact the reception of Russian athletes and McWilliams insists that if the Hamiltons feel any particular way about the team they're facing today, it's wanting revenge on the pair that topped them in the 2017 World Championships. They'll get it: with a handshake, the Russians forfeit after seven (of a possible eight) ends with the U.S. up 9-3.
The sport is one of the few where teams can surrender even before they're mathematically eliminated. McWilliams says this is an example of the self-policing and sportsmanship of curling. The refs rarely get involved. When one of the Russian athletes commits a foul—bumping the stone with a broom—he immediately pushes it off the playing field himself. "That's the honorable thing to do, you don't just keep sweeping like you didn't do it," Polo says.
G/O Media may get a commission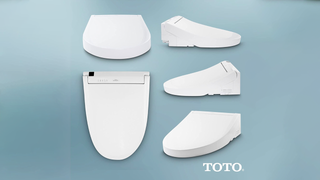 44% off
Toto Washlet Electronic Bidet Toilet Seat
The air of congeniality contributes to the feeling that curling is the rare Olympic sport in which any old schlub could reasonably hold their own. And maybe not even break a sweat while doing so. But the experts insist that it's more physical and more difficult than it looks—kind of.
"Anybody who's good at their sport, makes it look easy," he says. "But these guys are really in tune with so many different things that people don't give them credit for. And physically, at this level, you don't see too many unfit people curling anymore. At this level."
Tell me why it is not as easy as it is looks, I say.
"Most people can't stand up on ice that long," Polo says. If I were to curl, he tells me, I would struggle just to stay balanced. It does kind of look a little like ice skating in bowling shoes.
Here at the Olympic level, however, where the athletes have progressed passed staying upright, it'll come down to strategy and stamina. Matt and Becca also compete for men's and women's teams, respectively, and curling is the only sport to stretch over the entire Olympics. "Eighteen of the 17 days, potentially," McWilliams says. Which brings us to another stereotype about curling: McWilliams recounts that while they were in Seoul some of the other athletes had taunted the curling team. "They were like, 'I heard it's really hard for the curlers, 'cause they can't drink while they're playing. Don't they have to drink while they're playing?'" But despite what you may have heard (and despite what they may do at home), most curlers here won't drink until they're done for the Olympics. One day down, 17 to go, guys.