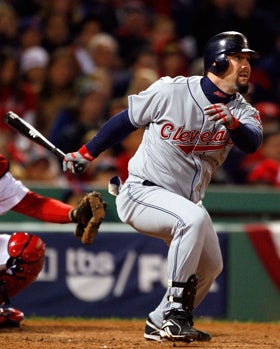 The Curse of the Trotino was said to have begun after the Boston Red Sox let longtime outfielder Trot Nixon, never referred to as The Trotino, go to the Cleveland Indians. Yes? No? Too much? I'll stop.
As you know by now — thanks, Will! — it was Nixon's pinch-hit single in the top of the 11th that opened up the floodgates last night. Luckily, for Indians' fans, the Tribe had wisely packed their wake-boards with 'em in the back of their jeeps ... dudes. Seven record-setting runs later ... and this American League Championship Series was all tied up at one. You know, just like Dane Cook drew it up.
The series now moves to Cleveland for Game 3 on Monday night, when Sox rookie Daisuke Matsuzaka will face Jake Westbrook. Here's to hoping Slider doesn't pull an Owen.