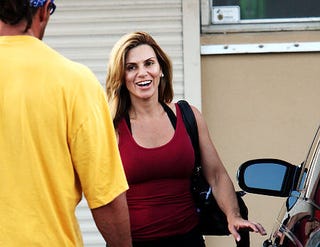 Alex Rodriguez tied Mickey Mantle's home run mark last night in the Bronx, just as news began to spill out that his five-year marriage to Cynthia is officially-officially crumbling.
The rumors about either Rodriguez's flings with aging pop stars still swirl, but there is one fact amid the absurd allegations: Cynthia Rodriguez has filed for divorce from the Yankees' third baseman.
The two parties have dispatched their legal teams to Miami to start the messy unraveling process and a custody battle for their two children. According to the filings, Alex claims that his wife "was not serious" about patching up their five year marriage. Cynthia's is a little more damning, alleging that A-Rod's extra-marital affairs with other, more muscular women are no longer tolerable and that his relationship with Madonna was less than platonic.
This is a brilliant financial move for Cyndy, as she could conceivably walk away with a huge chunk of A-Rod's baseball and endorsement fortune.
A-Rod, wife to file for divorce [NY Daily News]
A-Rod's Wife Hurls Splitter [NY Post]