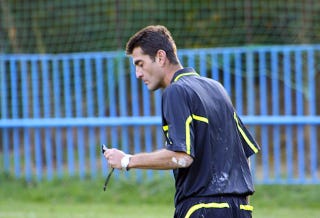 Apparently, this is Tomas Fidra. Tomas had a little bit to drink before heading in to work one day.
Police were forced to administer a breathalyzer test on Fidra after he sent off three Jestrabi Lhota players for merely inquiring into his well-being during a match against their rival Tynec nad Labem. He passed with flying colors. Nine times over the Czech legal limit is pretty impressive, too—they invented beer, right?
There was a lesson in all this, however. Fidra provided a great teaching moment for sportsmanship. After the ejections, Tynec agreed not to attack and the game ended in a 1-1 draw. It will be replayed next month.
[h/t Tom K.]