The Arizona Diamondbacks did not have the best season, finishing with an 81-81 record, and that disappointment seems to have filled general manager Kevin Towers with impotent rage. But Towers isn't upset about his players not performing well enough to get his team into the playoffs. No, he's angry because his pitchers didn't respond to perceived slights throughout the year by intentionally hitting opposing batters, and Kevin Towers isn't going to stand for that kind of softness anymore.
Towers took to the radio to air his grievances, and his quotes are pretty astounding. Basically, he comes off like every awful high school baseball coach you've ever met.
Here's Towers talking about a game against the Dodgers, in which the Dodgers smashed six home runs and were seen having some fun with bananas the dugout (transcription via Arizona Sports):
I was sitting behind home plate that game and when it showed up on the Diamondvision of stuffing bananas down their throats, I felt like we were a punching bag. Literally, if I would have had a carton of baseballs I would have fired them into the dugout from where I was sitting behind home plate.
And here he is complaining about how his team refused to toughen up, even after he lectured the coaching staff about how their pitchers needed to start throwing at batters more often:
You'd think the GM comes down and makes it a point to talk to the staff about it that at we need to start protecting our own and doing things differently. Probably a week later Goldy gets dinged, and no retaliation. It's like "wait a minute."
G/O Media may get a commission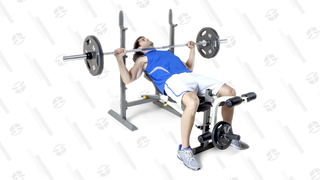 10% Off
Marcy Folding Weight Bench
But Towers isn't just blowing smoke here. Incredibly, he sees his pitchers' lack of "toughness" as grounds for getting run out of town:
Some [pitchers], contractually, it's tough to move. But I think come spring training, it will be duly noted that it's going to be an eye for an eye and we're going to protect one another.

If not, if you have options there's ways to get you out of here and you don't follow suit or you don't feel comfortable doing it, you probably don't belong in a Diamondbacks uniform.
Remember, this is coming from the same guy who traded Justin Upton because he wasn't "gritty" enough. How the hell is Kevin Towers not the general manager of the Braves yet?