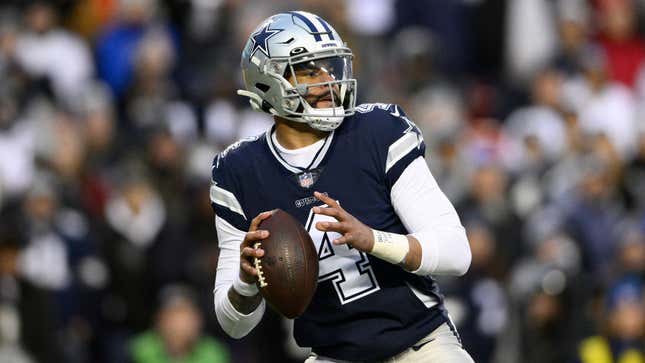 Following the Dallas Cowboys' 31-14 slaughtering of the Tampa Bay Buccaneers, Dak Prescott stepped to the podium and did what a veteran NFL quarterback is supposed to do. He exhibited the leadership qualities you like to see in your franchise star. Prescott having Brett Maher's back was needed after missing four extra-point attempts in the game. Maher had the yips and needed someone on the team to pick him up.

Best Division in the NFL in 2022? | Agree to Disagree
"I'm Money Maher's biggest fan... I just played like shit a week ago"
Again, it is good to see your leader come to the rescue in defense of another player, but hopefully, "Money Maher" hasn't seen how his QB lost his mind following Maher's third miss. Dak can be seen visibly upset over Maher missing his third consecutive extra point giving Dallas an 18-point lead instead of 21. Prescott even yells, "Go for fucking two" on the sideline.
Luckily for the Cowboys, this game was never in question, and those kicks weren't crucial to the outcome. The timing of Maher's meltdown couldn't have come at a worse time. On the way to facing an old rival that nobody outside the Dallas-Fort Worth metroplex believes you have a legit shot against. There are people within the Dallas area that have very little in the Cowboys coming away with a win against San Francisco.
Cowboys sticking with Maher, but for how long?
It'll be interesting to see how long of a leash Mike McCarthy allows Maher on the road against the 49ers Sunday. Weather conditions in the Bay Area haven't been great recently. There's been an unusual amount of rain for any part of California, and the field might not be in the best-kicking shape.
If Maher misses his first field goal or extra point attempt, will he be done for the day? You can always go for two, but that's a big risk against the best defense in the NFL. Because of the timing of Maher's collapse, it's tough to bring in a kick this week and have him ready for the biggest game of the year in a matter of days.
The drama in Dallas never ceases to amaze me. Even when they win, another issue finds its way to the front burner. Dak was quick to defend his kicker after the game, and rightfully so. But let's see how long that lasts after the first or second miss against the Niners should that happen. It took three Maher mishaps in a blowout for Prescott to completely lose it. In an even more significant game against a much better opponent on the road, we'll find out how patient Prescott can be.