The folks over at Rooster Teeth.com are small-boned, practical folk. So when they angered large, muscular Indianapolis Colts tight end Dallas Clark recently with a rather unflattering portrayal of him on a video game commercial, they quickly scrambled to make amends. They drafted a letter of apology, and even created a "director's cut" version of the offending video which casts Clark in a better light (see above).
You're no doubt aware of the original Madden NFL '07 commercial in question, in which Clark is pummeled, cartoon-like, at the hands of Eagles safety Brian Dawkins and defensive end Darren Howard ("I can't bear to watch this. I'm gonna go eat a sandwich.") Clark, of course, wasn't exactly pleased with it.
"Everyone has told me about it,'' Clark said to the Indianapolis Star. "I haven't seen the commercial, but I'm upset about it. It makes me look like a punk.''
You can guess what happened next. Clark was injured in the Colts' game against the Eagles the next day, having to be helped off the field with a knee injury. So the guys at Rooster Teeth, who apparently made the commercial, figured that this would anger Clark even more, and moved to placate him so that he wouldn't end up squashing them into tiny meat cubes.
But that's nothing, because Lil' Ronnie was getting set to have his mom drive him in from the south side so he could open him a gigantic can of Whoop-Ass.
G/O Media may get a commission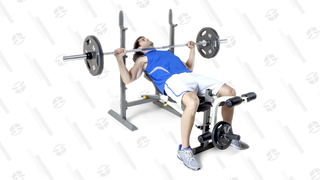 10% Off
Marcy Folding Weight Bench
An Open Letter Of Apology To Mr. Dallas Clark [Red vs. Blue]
EA Sports Madden NFL Commercial [Rooster Teeth.com]
Dallas Clark - Director's Cut [Rooster Teeth.com]
Commercial Irks Clark [Indianapolis Star]
Colts Could Lose Clark But Gain Help [Indianapolis Star]
Where In The World Is Lil Ronnie? [Deadspin]