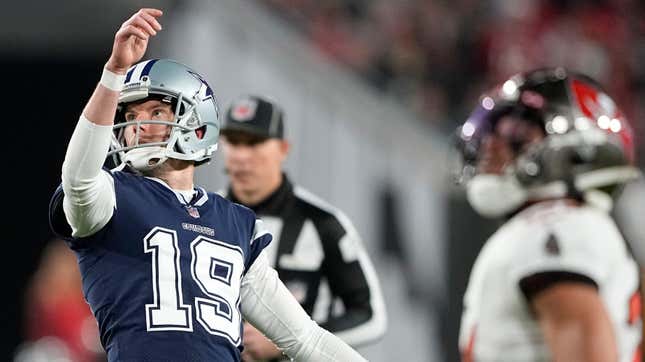 Dallas Cowboys kicker Brett "The Triple Threat" Maher was anything but automatic during PATs during last Monday's Wild Card Round victory over the Tampa Bay Buccaneers. That was the first Cowboys' playoff road win since 1992, but Maher certainly didn't help. He went 1-for-5 on PAT attempts, with zero points added via field goals. It was such a horrendous performance, even Peyton Manning, who's dealt with an "idiot kicker" of his own in the past, had to excuse himself in order to comprehend the ineptitude he'd just witnessed.
Black Quarterbacks = Big NFL Ratings | The SEO Show
Making the wrong kind of history
Maher had never had a game this bad before. In fact, no one had. In the history of the NFL, no player had ever missed four or more PATs. Hell, only two people had ever gone 1-of-4 and only six had ever gone 2-of-5. For Maher to experience such a horrid performance in the playoffs nonetheless...that's hard to recover from. It was such an embarrassing performance that Dallas, despite claiming they wanted to stick with Maher before searching for outside options, still felt the need to sign kicker Tristan Vizcaino to their practice squad...for precautionary measures of course.
Maher is certainly on a very short leash heading into Sunday's game against the San Francisco 49ers. In fact, some sportsbooks have offered a player prop on whether or not Maher misses a PAT in this game. The odds? +325 for yes, meaning a $100 bet would pay out $425 if Maher misses a kick. For how horrible he was less than a week ago, many bettors may consider this a surefire bet. However, I'm here to warn you of this line. This is undoubtedly a trap.

The other kickers who live in infamy
In the history of the NFL, there have only been nine kickers, including Maher, to miss three or more PATs in a single game. Only two missed a PAT the following week — Rick Danmeier (1980) and Max Zendejas (1986) — and only Bob Thomas (1985) missed a field goal in their next game. Thomas went 5-for-5 on PATs and 3-for-4 on field goals though. I'd say he earned that miss. Regardless, in total, following a week where they missed three or more extra points, kickers have gone 20-for-22 (90.91 percent) on PATs and 15-for-16 on field goals (93.75 percent). Maher had a bad game, but that usually means he's in for a good one immediately after.
Extra, extra
Now, to be fair, the extra point was made more difficult in 2015, after moving the PAT back from the 2-yard line to the 15. And only one kicker has ever missed three or more PATs in a single game from that distance — Matt Gay in 2019. He went 2-for-2 on PATs and 2-for-2 on field goals the following week, but that's not a big enough sample size to make a judgment. So, let's move to field goals. I understand that field goals are tougher than extra points in general, and on average, they tend to be longer than 32 yards (the expected distance of a PAT since 2015), but that just goes to show that if kickers who miss a bunch of field goals in a single game can bounce back the next week, then Maher should be expected to do the same since PATs are easier, right?
Since 2015, there have been 19 instances where a kicker has missed three or more field goals in a single game. Surprisingly, only Greg "The Leg" Zuerlein and Mason Crosby have had more than one of these games. In seven of those instances, the kicker didn't play another game that year (either it was the end of the season, the kicker went on IR for the remainder of the year, or they were cut), so let's eliminate those. Of the remaining 12 instances, the following week those kickers went a combined 33-for-36 (91.67 percent) on extra points and 20-for-25 (80 percent) on field goals. Yes, both of those figures are below league average, but

At least they're very close to average, meaning the kickers are returning to normalcy; and
The percentages are thrown off by 2015 Kyle Brindza, who went 2-for-3 on PATs and 1-for-3 on field goals just one week after going 0-for-1 on PATs and 1-for-4 on field goals. He was cut a week later. He only played four games for his entire career. He wasn't a proven veteran kicker like Maher or anybody else on this list is/was.
Without Brindza, the percentages rise to 93.94 percent on PATs and 86.36 percent. The latter of which is more than a full percentage point higher than the 2022 league average.

Could Maher miss another kick this weekend? Absolutely. But if it does happen, I'd be willing to bet it will be due to a block by the 49ers' special teams unit rather than another shanked opportunity off Maher's leg. Maher is a professional, who has almost assuredly encountered the yips before. He overcame them then, and he'll overcome them now. I still believe the Niners will win, but not because Maher is going to miss a bunch of kicks. I doubt he'll miss any.