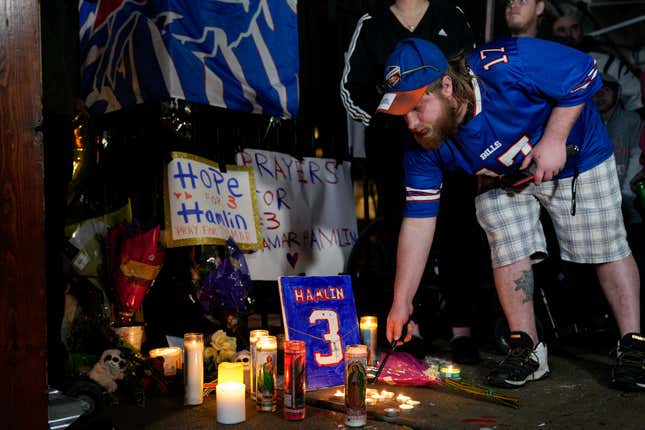 When disaster strikes, whether in our personal lives, communities, or even shared public grief, the cliches can rain from our lips like tears from our eyes. Sometimes life is too overwhelming to sit in the moment and think of the most eloquent statement to make. It's why, as Damar Hamlin continued to lay on that Paycor Stadium turf as the commercial breaks rolled on, Joe Buck ran out of words.
With limited information, and on a live broadcast, there really isn't much else to say other than that the situation has taken a frightening turn, and thoughts and prayers go out to Hamlin and his loved ones. Anything else is at best uninformed, and at worst, insensitive.
When the absolute worst — the only inevitable moment for all of us — strikes in our families we gather from far and wide to pay respect to the deceased. Then we pass around email address lists and swear we are all going to gather more often. It's the right thing to do and say in a somber moment.
On Monday night, however, something happened that usually doesn't when life is upended by an unforeseen incident, the metaphorical pause button was pushed. As Sam Fels so eloquently expressed on Tuesday: "We get to pause. Thankfully, both the Bills and the Bengals got to pause too."
The show stopped. The participants were shocked and saddened, and then they left the field and would not return. That was Monday Night Football. The last game of the 2022 NFL regular season's penultimate week. The RedZone crew couldn't change the channel to another game, so we were forced to sit with it. Our discomfort, frustration, helplessness, and our ignorance with updates few and far between.
For a few minutes a voice would sell viewers an automobile, or maybe a man with a bushy mustache would try to stop new homeowners from becoming their parents, then right back on the screen was a football field with no game being played, or Suzy Kolber in studio.
The fact that time literally never stops, allows for few moments when a significant percentage of the public, across political and ethnic spectrums, is left to ruminate on a single moment. However, sometimes in those moments, human beings can step up in impressive ways. It happened three summers ago with George Floyd.
It had been two months since we were ordered into our homes. A necessity because an airborne virus was filling emergency rooms too quickly for patients to be properly treated, and it was the only way to get the mortality rate under control. Then on a Memorial Day, many might have normally spent at a friendly home with the aroma of meat on an open flame filling the neighborhood, former Minneapolis Police Officer Derek Chauvin put his knee on Floyd's neck for nearly 10 minutes, and killed him.
Viral-video police killings had been happening for years, but this time everybody was at home with nowhere to go. No coworkers to play nice in front of, no calming restaurant to dine at, and no sports or new shows to watch. There were no distractions. The game had been called off.
The people were immersed in what happened and became furious. They not only took to social media, but they also took to the streets. By July 2020, it was estimated that more people participated in those protests than any in the history of America — between 15-26 million people.
What was most promising about those demonstrations was the diversity in the crowds. Other races of people have always joined Black people in these moments, but not to the degree that they did that summer. Per Brookings data, in Los Angeles, New York, and Washington a combined 54 percent of the protesters were white. It was a real moment, in which the struggle for civil rights appeared to be ready to take another step forward.
Real discussions took place that went further than simply reforming policing in America with more training and Consent Decrees. Restructuring what police actually do was put on the ballot in Minneapolis. There was a measure on it in 2021 that would have reduced the police force and encouraged a "comprehensive public health approach."
Disappointingly, the moment didn't last and the ballot measure didn't pass. But that summer did show that when people put their anger and confusion into the proper channels good can come as a result.
It happened again this week, though on a smaller scale, with Hamlin. His Chasing M's Foundation Community Toy Drive has seen a surge in donations in recent days. As of early Wednesday afternoon, the total was nearing $6.5 million. Also, according to Pro Football Talk, Hamlin's jersey is now the third-highest seller in the NFL. That money is also going to his Chasing M's foundation.
This is not to say we should wish for more global pandemics and life-threatening injuries to shake the public out of its narrow focus on work and relief from working. But in order for life to be lived in the most abundant way, we need to find more ways to hit that collective pause button.
The race for people to acquire, devour, and conquer before the finish line of their perish is why life is so much harder than it has to be. History has shown that ugly, gluttonous side of humanity will never be eradicated, but we have also shown the ability to step up in extraordinary ways.
So be sure to send your thoughts and prayers to the Hamlins and their loved ones. It's the right thing to do. But let's also dig a little deeper and find ways to tap into our collective generosity and sense of justice that don't involve death or something close to it.