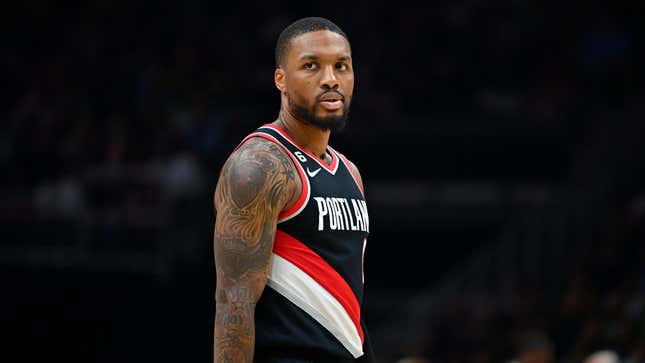 Damian Lillard was in the news Wednesday for sounding like an old head during an appearance on J.J. Redick's The Old Man and the Three podcast. From saying young players were entitled, to worrying about the direction of the league, and all the championship tropes that have followed him in between, if anyone wanted to write a think piece about how Lillard sounds in lock-step with the NBA on TNT crew, the time is now.
Jordan Poole ruins Golden State Warriors comeback and… we're being too hard on him | Keep it a Buck(et)
However, I'm not going to do that because a bunch of other sites had that aggregate prewritten. What I'm here to talk about is this portion of the sit-down.
"Bro, I don't need to prove to y'all that I wanna win a ring. Why the hell do I play? I don't need to prove that to y'all. I understand that we play to win championships and we all want to win a championship, but we can't keep acting like nothing matters. Like the journey doesn't matter. We can't keep doing that. There are so many ways the league is different. There are so many ways. I think about it all the time that I don't know if I can play a long, long time because I don't enjoy what the NBA as a whole is becoming."
There's a lot here, but let's concentrate on the very last line.
"I think about it all the time that I don't know if I can play a long, long time because I don't enjoy what the NBA as a whole is becoming."
Is that Barry Sanders' music?
If Lillard retired after this year, he'd finish with 11 seasons, one more than Barry Sanders and two more than Calvin Johnson. (I doubt Lillard will step away because, my god, look at that contract, but entertain me for a few more paragraphs.) He'll be a Hall of Famer like them. Not that it's all that hard to do in the NBA, but as a member of the All-75 teams and as the all-time leading scorer in Portland Trail Blazer history, Dame Time is assuredly making the cut.
It sounds like, in Lillard's mind, he has nothing left to prove even if he doesn't have a ring. The fans may not think that. Actually, the fans 100 percent don't think that, and it sounds like that's what's driving him away from the game.
It reminds me a lot of how Sanders' career ended, or even Johnson's exit. Obviously, those instances were largely a product of being members of the Detroit Lions for their entire career, and having almost zero playoff success. Yet the core messages are the same, and that's, "I'm moving on because this isn't fun anymore."
Sanders was sick of having to make defenders miss in the backfield, Johnson was sick of dealing with back pain, and Lillard is sick of pains in the ass — more specifically, the people who tell him his achievements don't matter because they're not adorned with a ring.
An abrupt end, when they're still seemingly in their primes, would not be the only parallel though. And the one that matters the most, at least in regard to my argument, is the players' approval ratings.
As long as fans are putting together highlight reels of exciting NFL and NBA footage, Barry, Megatron, and Dame will be on there. They will be featured because their greatness is irrefutable. The only people who have something bad to say about these players are the ones who have a kink for titles, for arguments, for nonsense.
Watchthemotherfuckingames.
Tell me Lillard isn't one of the most fun players the NBA has ever had. Say it. Say you don't enjoy watching him play. This isn't James Harden flopping around for 40. Lillard is an assassin if ever there was an assassin. He had 71 points in a game this season, and people were like, "That's not impressive." 
Why? Because he's not on his fourth contender in 10 years? Go out to the playground right now and try to emulate his game. It's near impossible to do. As a kid, I used to set up chairs and bob in and out of them with a football under my arm, not like Emmitt Smith because he had a ton of success. Like Barry Sanders because he turned grown men into quivering statues in the open field.
If Jrue Holiday carried a franchise for a decade, then maybe kids would be playing defense instead of tapping their wrists after clutch buckets. He didn't. Lillard has. So enjoy it while it lasts because it sounds like it might not last that much longer, and definitely isn't going to end with Lillard hoisting the Larry O'Brien in your team's colors.*
---
*My colors are red and black, so, yes, I very much revel in telling you to fuck off. If you want to read more of me defending Damian Lillard (or one of our other writers weighing in objectively), check out Deadspin's Portland Trail Blazers team page.