A couple of months ago, everybody's favorite Curly Haired Boyfriend — credit to Simmons: No nasty emails please, Bill! — Boston Globe columnist Dan Shaughnessy release a memoir about his son's senior year of high school baseball. Whatever your thoughts on this — and we suspect you have some — the book has received middling but not wretched reviews, and has sold decently. But that's apparently not enough for the Shaughnessy family.
Angry about some negative reviews on Amazon, Shaughnessy's daughter Kate has emailed a list of friends and family imploring them to write positive reviews to offset those nasty, nasty ones. The full email:
Hello,



I hope this is not an imposition, but I am writing on behalf of my father, Dan Shaughnessy. All of your emails expressing your appreciation for his book "Senior Year" have meant so much to him. The book has received nothing but positive press, and has been doing well in stores thanks to people like you spreading the word that you enjoyed it. It was, as you know, a very personal project and one that left him pretty vulnerable to all the "Dan-Haters" out there. Unfortunately, those "Dan-Haters" make it their business to fling mud at my dad whenever possible, and one of their favorite ways to do this is write terrible reviews for his books on Amazon.com. As pathetic as it is, these people actually take the time out of their day to go to Amazon.com and write a negative customer review for a book they have not even read, just to spite Dan Shaughnessy. So, I am writing to ask a small favor. If you can, please take the time to go to Amazon.com and write a customer review of your own, letting people know what you —someone who actually read it— thought of the book. It will only take a few minutes, and would help a great deal in silencing the mindless morons who regularly contribute to this "Dan-Hating."



You all wrote wonderful things about "Senior Year" in notes to my dad. Please help cancel out the negative buzz on Amazon.com by writing a brief customer review, and giving this book the rating it deserves.

Thank you so much for your time.



Sincerely,

Kate Shaughnessy
What we find strange about this: We were only able to find two negative reviews about the book on Amazon. Surely, this seems like a bit of an overreaction; only two negative reviews about the CHB? For this a pleading email? We expected so much more from the "mindless morons."
G/O Media may get a commission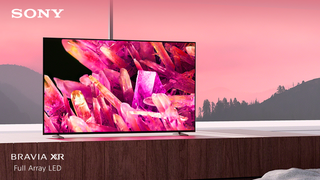 $400 off
Sony 55 Inch 4K Ultra HD TV X90K Series
(By the way, that picture is of Shaughnessy giving a journalism award to SI's 10 Spot Blog's Pete McEntegart.)