Someone let ESPN senior Jonas Brothers correspondent Lynn Hoppes out of the shallow end of the pool, and this is what happened.
Washington Redskins owner Daniel Snyder is a shrewd businessman. But sometimes it takes his family to help his business.

Three kids to be exact.

"My kids have always been telling me we should 'Go Green.' They want us to buy a hybrid. They always talk about paper or plastic," said Snyder, who bought the Redskins in 1999. "So I talked to my top executives at the Redskins and asked about ways we can do more for the environment."

On Thursday, the reality came when the Redskins and NRG Energy announced that FedEx Field will be the largest solar installation in the NFL. This innovative solar power system can produce enough power to meet 20 percent of the stadium's power needs on game days and all of its power on non-game days.
Shrewd businessman, loving father, caretaker of our environment. Dan Snyder is George Bailey crossed with Pearl Buck. What is this shit? First of all, Dan Snyder doesn't do noblesse oblige. Why would he? You can't put a $10 surcharge on noblesse oblige. You can't get a sponsor for it. Noblesse oblige, brought to you by Subway. No, you know what Dan Snyder does? This is what Captain Planet does: He mutilates trees on federally protected land. (Wait, can I say that? He didn't mutilate the trees—at least, I don't think he did. I'm sure he hired someone to mutilate the trees for him. Would it be libelous to say he did it himself? No, I don't think that'd be libelous. "Dan Snyder fucks corpses"? Libel city. Can't say that. But "Dan Snyder mutilates trees on federally protected land" is probably fine—as defensible as "Dan Snyder fucks corpses" is indefensible.)
So the biggest embarrassment in the NFL is getting free PR from the biggest embarrassment at ESPN (at least on days Craig James isn't working). Perfect. How does a journalist write something like this, I wonder? How does ESPN let anyone write this? How does this appear in any space outside of Snyder's own secret Hello Kitty diary? How does Lynn Hoppes sleep at night? This wasn't just any owner. This was Dan Snyder, sworn enemy of Hoppes's chosen profession, a man dedicated to the proposition that everything on this planet can be commodified and sold at a markup. And all Hoppes could do was smile and nod along brainlessly, like one of those free bobblehead dolls he loves so much.
G/O Media may get a commission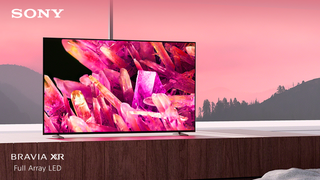 $400 off
Sony 55 Inch 4K Ultra HD TV X90K Series
Daniel Snyder talks about Redskins, solar energy [ESPN]
Earlier: ESPN's Corporate Blog Finds Rock Bottom Somewhere In This Idiot's Office