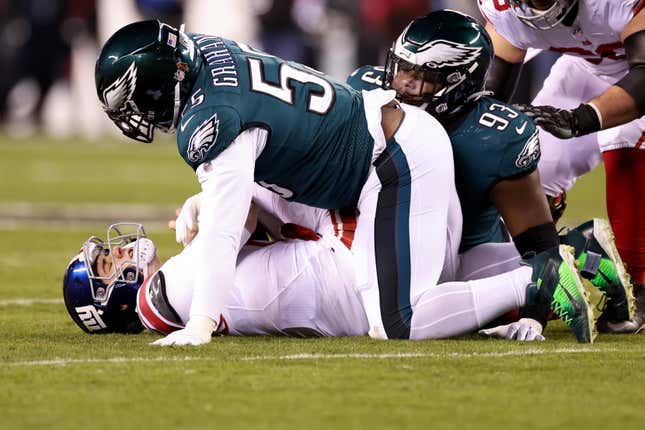 Daniel Jones' sputtering whip finally broke down Saturday. The red light has been on all season, but for 19 games, Brian Daboll's offensive alchemy kept the New York Giants' well-oiled machine rolling down the NFL interstate at 40 miles per hour. Their makeshift season reached its dead end in a sobering 38-7 loss to the Philadelphia Eagles.
Terry Crews' favorite NFL players
Philadelphia's pass rush, which recorded the third-most sacks in NFL history, spaghettified the Giants' offensive line and planted Jones into the turf five times. In the first quarter, James Bradberry jumped Jones' pass four yards in front of the line of scrimmage. Hurts quickly led the Eagles on their third touchdown drive of the opening frame and it was effectively over at that point.
However, New York's cowardly punt on 4th-and-6, while trailing by three touchdowns in the fourth quarter, was the most striking memory of the night. That white flag was a far cry from Joe Judge putting the season in a compactor and calling quarterback sneaks on 3rd and long in Week 18 a year ago, but it revealed what Daboll really thinks about Jones.
In 2022, Jones and Saquon Barkley remained off of the IR long enough to showcase what they could accomplish together, but only the latter should be considered part of their long-term blueprint. Their fitness combined with Daboll's ingenuity to hide their collective offensive warts as smoothly as Tesla masking their faulty autopilot software to get the G-Men into the playoffs.
Daboll found ways all season to put the offense on autopilot by keeping Jones' turnovers down, utilizing his legs on zone-read option runs, and through the short passing game. In six games this season, Jones ran 10 or more times and his interception percentage led the entire league. The Giants head coach's schemes milked everything it could out of Jones this season and maxed out his stock.
New York's tow truck offense was spearheaded by Saquon Barkley and the stream of dump-offs he received from Jones. Keeping the score down and playing low-risk football won New York nine games in a best-case-scenario campaign. But Jones has not yet shown an ability to win an offensive duel.
So how'd they get this far?
After Jones completed 24 of 35 passes for 301 yards in the Giants' playoff-opener upset of the Vikings, Daboll avoided the hyperbole and reiterated that Jones "played good, winning football."
Jones defined "game manager" in 2022, and only eclipsed 300 yards this season in New York's Super Wild Card weekend victory over the Vikings, Week 16 against Minnesota, and in Week 11 against Detroit. His season-high aside from those outliers against the league's worst pass defenses was the 228 yards he logged in a loss to Dallas. Otherwise, Danny Dimes ran an empty tank wherever Barkley and the defense pushed him.
The pendulum could only continue its momentum so long before it swung back the other way. The violent reversal of gravity from Minnesota's 27th-ranked pass defense to Philadelphia's was a reminder that regression to the mean is always around the corner.
An offense can only rely for so long on wildcats, screens to one of the best workhorse backs in football, and designed quarterback runs for eight yards before eventually getting figured out. As exciting as the 2022 season was for the Giants faithful, the New York metropolitan area's lowered expectations for 2022 will eventually return to sea level. Jones threw for 15 touchdowns in 17 games and passed for a career-high 3200 yards. Eventually, this goodwill over a career-year season which can best be described in a vacuum as middling, will evaporate.
How long can the New York metropolitan area watch Jones lug the offense around on donuts before their envy of luxury quarterbacks Trevor Lawrence, Patrick Mahomes, Joe Burrow, Dak Prescott, and even Jalen Hurts roaring their Maserati engines down their playoff lanes spills over?
In Jones' defense, the wide receiver's room was an outhouse behind team headquarters devoid of talent. Darius Slayton and Richie James were arguably the weirdest receiving duo seen in the postseason since Donovan McNabb slid through the NFC playoffs with Todd Pinkston, James Thrash, and Freddie Mitchell. The Giants' paucity of receiving talent at least leaves room for the possibility of Jones' improvement.
Meanwhile, Jalen Hurts flourished this season after the acquisition of A.J. Brown, and targeted Brown, DeVonta Smith, and Dallas Goedert 21 times. Jones' top receiver Sunday was James, a former late-round pick whose career high before 2022 was his 394-yard performance as a San Francisco 49er last season.
The only thing standing between Jones and the backup quarterback derby outside New York is a fear of the unknown. The questions over whether Jones is New York's long-term answer at quarterback ended in an ellipsis Saturday. There's a strong possibility he returns under center and attempts to prove this season wasn't a fluke, but that's a road to nowhere in the long run.