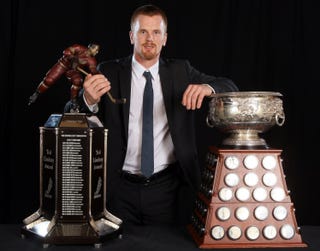 The NHL awards were last night; we didn't watch. (Mostly a Jay Mohr thing.) So we couldn't tell you what outfit the readers of Seventeen picked out for Jeff Skinner, or if the pointless Jennings Trophy was handed beforehand, like the technical Oscars.
We can tell you that at some point, the Ted Lindsay (né Lester B. Pearson) Award suffered some structural damage. After Sedin was named the players' MVP, perhaps showing that the players watch less hockey than we think, he made every effort to hide the trophy's broken stick in photo ops.
No one's saying how the trophy got dinged. But last year's winner was Alex Ovechkin, and we wouldn't put it past him to spend a year taking it everywhere and doing horrible things with it, Lord Stanley style.