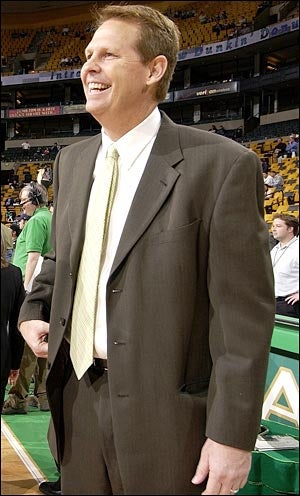 Here's an interesting little tidbit found by Portland Trailblazers blog infantryman Benjamin Golliver at Blazers Edge. It's a couple of grafs taken from the 1991 book "Against The World", which followed the 1991 Blazers' quest for an NBA title. (The ghost of Jerome Kersey haunts us all.)
In this paragraph, we find out how former Blazers' guard and current NBA exec of the year, Danny Ainge, handled being one of the only pale faces on the team and how he garnered respect from the likes of people like Alaa Abdelnaby:
"We knew Danny was Mormon [Kevin Duckworth said]. I drilled Danny about everything I didn't know, why there were no black Mormons and that kind of thing. When you're with all black guys, you don't learn about other cultures. Danny was great. It was like Danny Ainge, the brother.
And during the Finals, when Spike Lee sent along some Malcolm X hats and t-shirts to the Blazers to help promote his new movie, the players made sure Ainge got one. "Danny was part of the team, too," Duck said.
"We called him token, in a light-hearted sense," said Abdelnaby. "I called him 'Ritz' for cracker and he called me 'Mandingo.' I've played with a lot of white people, and I don't know too many other people who could have handled it as well as Danny. That's probably the thing I most respect him for. There was never an inkling of anything from him of racism, of being uncomfortable... I don't think I could have handled it as well as Danny. We would talk black-white relationships. Part of the reason Danny and I got along so well is he was naive to what was going on as a black person. He never even saw the color."
To better showcase his colorblindedness, Ainge took it a step further by holding regular Mandingo Parties for his teammates. Thanks Ritz!
Yes, this will be that kind of day...
You must be this tall to ride this ride and we hope for your safety you will keep all arms, legs, or Cheetahs from dangling over the edge, please.
Bell sounds at about 3 p.m. today.
If there's anything newsworthy you'd like to see today, please holla at ajd@deadspin.com.
Or, you can pummel me with emoticons at the AIM handle "Johanwhee."
Wendell Maxey Puttin' In Work [Blazers Edge]