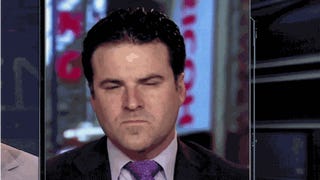 Yesterday, Seattle Seahawks corner/provocateur Richard Sherman used a mandated media availability (and a life-sized cardboard cutout of Doug Baldwin) to mock the NFL for fining Marshawn Lynch $100,000 for refusing to talk to reporters two weeks ago, for blatant hypocrisy, and for expecting its athletes to behave like shit-eating brand robots. This was all pretty funny, but it left observers with a burning question: Who will defend the brands? Thankfully, post-human ESPN business reporter Darren Rovell will defend the brands.
("Sure, the league won't allow you to have alcohol sponsorships while it profits from its relationship with Anheuser-Busch, but you get a little bit of that sponsorship cash in your non-guaranteed contracts. I promise!")
You'd think Rovell would love an athlete talking about his brands, but since it comes at the expense of a bigger brand, he can't. He respects the brand food chain too much.