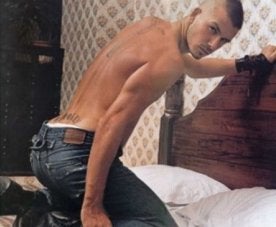 I thought we bought this guy. $250 million, and he doesn't even play for us? We got ripped off.
In light of Beckham's stellar play with Real Madrid of late, he's on his way back to England's national team. I don't know if he should be terribly flattered, though ... it might not have happened if Ashley Cole, Gary Neville, Andrew Johnson, Micah Richards, Owen Hargreaves and Ben Foster weren't all hurt.
Coach Steve McClaren 86'd Beckham when he took over managing duties, and Beckham might have had every right to tell him to sod off (I think that's what they say), but he took the high road. He expressed disappointment, kept his head held high, and now he's back. Heartwarming.
England has a friendly against Brazil next week and then a crucial game against Estonia in Euro 2008 qualifying.
Beckham recalled for England [Guardian Unlimited]
But Did He Ever Really Leave? [Soccernista]