Southampton fired Mark Hughes today after finally realizing what was evident to just about everyone the day he got the manager position there, which is that things were almost certainly not going to work out. And like your unemployed cousin who desperately needs a job so he can finally move out of your aunt's basement, but is too proud to go down to Best Buy and ask about their open salesperson gig in the electronics section and instead stays trawling Linkedin sending off applications for high-paying glamor jobs he has absolutely no shot of getting, our favorite out-of-work manager David Moyes has wasted no time getting out his message that he is "interested" in becoming Southampton's next manager, despite there being exactly zero evidence of the Saints' interest in him.
"David Moyes open to speaking to Southampton over manager's job," reads the headline on Sky Sports' article, which is news in the same way "Michael Jordan refuses to rule out comeback, says he could 'still put up 25 a night against these scrubs'" is, in that it is obvious and, absent further information saying otherwise, is meaningless. The second sentence in Sky's article makes clear that there is nothing else here other than an unemployed and not especially coveted manager offering his unilateral interest in a very good managerial job: "Moyes is keen on a return to the Premier League, but there has so far been no contact between himself and Southampton."
Reports say that the guy Southampton actually want, and whom they are apparently on the brink of signing, is former RB Leipzig boss, Ralph Hassenhüttl. For our purposes, all you really need to know about Hassenhüttl is that he is a manager who has been something other than an abject failure for a solid half-decade now, and thus is a damn sight more realistic a candidate for an ambitious club like Southampton than Moyes.
Moyes getting his name out there like this wouldn't be all that notable or objectionable if it weren't such a common occurrence. Indeed, just about every time there is a down-on-its-luck but feasibly upwardly mobile team looking for a new manager, you'll be sure to hear about Moyes's "interest" in the gig, even though the odds of the teams in question having any reciprocal interest in him often seem microscopic. Googling "david moyes interest in job" returns quite a few results over these past few years. To wit:
G/O Media may get a commission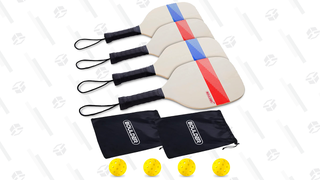 It's Pickleball
Pickleball Sets
For everyone's sake, hopefully Moyes can soon quit what appears to be his full-time job of being interested in jobs, and actually get a job.