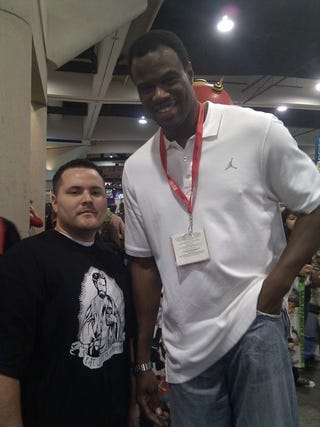 Because no one reads the newspaper, and SportsCenter's anchors are too perky for this early in the morning, Deadspin combs the best of the broadsheets and internets to bring you everything you need to know to start your day.
• Regarding baseball's exciting new plan to institute a test of dubious efficacy for a substance of dubious benefits, Yahoo!'s Jeff Passan has this to say:
Like so much science, the opinions vary, and Selig chose instead to let public backlash shape his response.

HGH is baseball's Shirley Sherrod, the anti-doping clowns its Andrew Breitbart and Selig the Obama administration.
• Chris Paul asks to be traded; LeBron tweets his support; and somewhere Jim Gray emerges from his crypt once again.
• Derek Jeter hit the second inside-the-park home run of his career last night — relying on those special intangible qualities that make David DeJesus run into a wall — and Wezen-Ball's Tater Trot Tracker clocks him at 15.42 seconds. Of note: It was the 14th inside-the-parker of the season, putting us on pace for the highest total in over 20 years.
• Floyd Mayweather Jr. goes to a cockfight.
• Thierry Henry makes his Red Bulls debut against Tottenham and even scores a goal without the use of his hands.
• Cleveland sports fans are still marinating in their own exquisite agony:
Top photo from @DjAlvarez86, H/T Jovan J.
* * * * *
Good morning, everyone. Friday? Friday.