Subject: Really Meatloaf?
From: TJ Ujazdowski
To: The Staff

take your bullshit food and shove it up your ugly ass

i propose a contest, lets see who can piss 6 fee straight up and, who ever doesnt get wet has to eat this bullshit food...

you know what I say when I go home at night.... how can I make a hamburger less enjoyable... hmmm... take off the bread and all the other good shit that goes with it, burn it in the oven and serve it alone on a plate... FUCK YOU
DIE
Subject: x-mas lists
From: TJ Ujazdowski
To: Barry Petchesky

you know what I would love for christmas Barry....

some of that meatloaf from this past weekends god-awful Foodspin...

fuckin meatloaf

-TJ
Subject: Drunk racist fight
From: mustang6tee8
To: The Staff

Since no Johnny Football shirts are officially recognized by Texas A&M- I'd highly recommend removing the Texas A&M tag line from your article. This is strictly libel and your site has received much distaste since posting it.

I'll forward this along to A&M's legal department so they can take a look at it as well, if they have not been informed already.

-Old Big 12 guy
Subject: Airport fight video - take it down now!
From: Bubba Bubba
To: The Staff

It is extremely offensive! Take it down now!
Subject: the william sonoma hater's guide
http://deadspin.com/5959212/the-haters-guide-to-the-williams+sonoma-catalog
From: Deborah Garber
To: Drew Magary

Why don't you just go on line and let WS know you want to get off their e-mail list and that you no longer want to receive the catalog. Its very easy and works. That way you can save some trees and you no longer will have to waste your own energy obsessing about the stuff in tthem.
Subject: You're an idiot
http://deadspin.com/5929778/heres-the-opening-ceremony-tribute-to-terrorism-victims-nbc-doesnt-want-you-to-see
From: Stephen Mundie
To: Tim Burke

I've just read your piece about the Olympic Opening Ceremony relating to the Memorial Wall – it had nothing to do with the terrorist attacks you moron!!

It was an idea thought up by Danny Boyle as a way to commemorate people who had died over the previous year, inspire by the death of his own father. Everyone who had tickets to the opening ceremony received an email asking if they would like to submit a photo of a loved one to go on the memorial wall. I sent one of my mum who died in February this year and her picture was shown. Trust a thick American to jump to a stupidly wrong conclusion.
Subject: Karl Rove
http://deadspin.com/5958372/karl-rove-in-denial-melts-down-on-fox-news-attempts-to-get-network-to-rescind-calling-election
From: David Reid
To: Tim Burke

I have no love for the guy but is it necessary to be that rude to another human being?
If you think you are being sharp-witted or funny, it's not. It's mean-spirited and cowardly, actually.
If you think treating another human being poorly will get you a larger following, it won't.
Try using any talent you may have to report honestly and respectfully. You'd be surprised at the number of people who would appreciate the refreshing change.
You may also want to try this: Treat others the way you yourself would like to be treated.
I try giving people like yourself a "wake up call" though it tends to fall on deaf ears but I'll do it anyway, once, out of respect for my fellow man.
Now, the only reason I'm going to try and remember your name is so I don't read anything else you write.
G/O Media may get a commission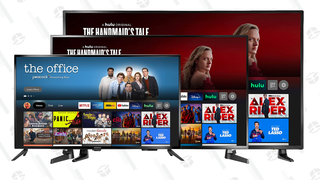 Up to 44% off
Prime Early Access - Insignia Fire TVs
Subject: [no subject]
From: barsonfire STEF
To: Samer Kalaf

so I got this email from twitter, is this samer from beyond scared straight?
[Ed.: It is not.]
Subject: purchase
From: John Mcmillan
To: [Undisclosed recipients]
Bcc: Tim Burke

Hello,
Am James Brown from Mcmillan Decoree and i will like to place an order regarding some Saddles from your company.I need to know the types that you have instock and their price ranges as well.I will like to know if you do ship out and the type of credit card you accept as payment.Waiting for a rapid response
Cheers
James Brown.
Dead Tweets