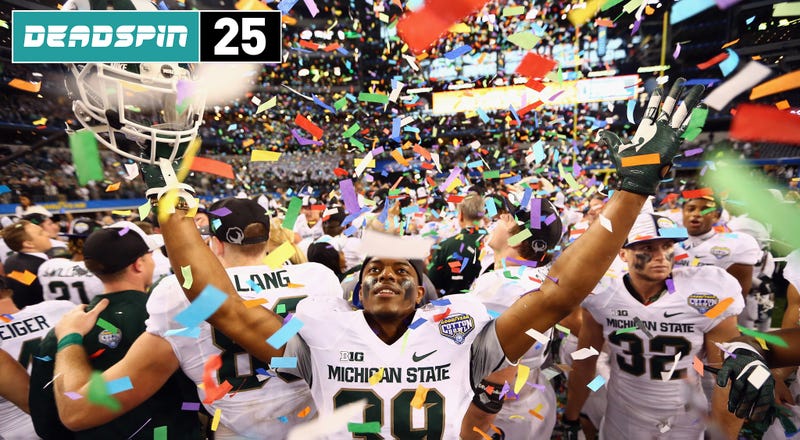 Welcome to the Deadspin 25, a college football poll that strives to be more democratic and less useless than every other preseason poll. Leading up to the college football season kickoff, we will give you previews of the 25 teams that you, the readers, voted to be most worthy of writing about. Now, No. 5 Michigan State.
Michigan State is the team that people know is really good, but don't really care that much about. If only they were in a different division.
The Spartans' rise to prominence under Mark Dantonio has been well-received and noted, but they also happen to play in the same conference as Ohio State, so they didn't really get as much love as they should have last year. Still, Michigan State scored 40.3 points per game, had the 14th-best offensive FEI of any team in the nation, and held opponents to 20.6 points per game. As a football coach, there's not too much more you can ask your team to do.
Quarterback Connor Cook returns as the golden boy; he's compiled a career record of 23-3, threw for 3,214 yards and 24 touchdowns last year, and will likely depart following this season as the greatest quarterback in school history.

Michigan State loses its top two rushers in Jeremy Langford and Nick Hill. In 2014, Langford rushed for 1,522 yards and 22 touchdowns, and Hill added 622 yards and nine scores of his own. The Spartans will turn to junior back Delton Williams, who ran for just 316 yards a season ago. Williams has the luxury of running behind a very good offensive line, but losing Langford will bog down offense and put more pressure on Cook to make up for the loss through the air. The only problem with that plan is that Cook no longer has his go-to receiver.
Tony Lippett was among the best receivers in the nation last year, compiling 65 catches for 1,198 yards and 11 touchdowns. Lippett has since departed for the NFL, and Michigan State doesn't have anyone on the roster who looks fit to step up and become a No. 1 option. What they do have is enough veteran receivers to put together a good-if-not-great passing attack. Aaron Burbridge, Josiah Price, and Macgarrett Kings Jr. are all returning, and though none racked up more than 400 receiving yards last year, they are all upperclassmen and should be able to provide the support Cook will need out wide.
The Spartans' success is largely owed to former defensive coordinator Pat Narduzzi, who spent his time in East Lansing crafting some of the finest defense in the nation. Narduzzi, though, is now gone, having scooped a head coaching gig at Pittsburgh this past offseason. With Narduzzi gone but the recruits and talent still in place for the time being, the Spartans should still walk out a killer defense with former positional coaches Mike Tressel and Harlon Barnett taking over as co-defensive coordinators.
Up front, the Spartans will be as good as anybody, with the line returning four of their top five players, including end Shilique Calhoun, tackle Joel Heath, end Lawrence Thomas, and nose tackle Malik McDowell. The linebacking corps loses just one starter from a year ago, although starting linebacker Ed Davis will be out for the year due to a knee injury. Darien Harris and Riley Bullough will still be there to hold things together, though.
The defense's biggest concern is the secondary, where the Spartans will be without first-round draft pick Trae Waynes and safety Kurtis Drummond. The duo picked off seven passes and broke up 19 more in 2014. The next two guys up on the depth chart, Darian Hicks and Demetrious Cox, have both been fine in their first two years, but not in the eye-popping way that got Waynes selected by the Vikings with the 11th overall pick.
A Guy To Know
Cook should be your guy to know, mainly because he is the surest thing on a top-10 team's offense, and without him, the unit would more or less be in shambles. Cook will be drafted in 2016, but don't count on him being the next Andrew Luck. The guy is a smart quarterback who has made the most of his weapons and line, and, as a result, has only lost three games in his starting career. I don't think his velocity is quite there to hang in the pros, but he's slaying the college competition, and that's all he has to do for now.
Can They Make The Playoff?
Yes. Well, maybe. You see, when the Big Ten realigned/renamed its divisions a couple years back, it placed Michigan State in the same division as Ohio State. The Buckeyes are beatable, sure, but they are also the best team in college football, and stealing a division title from them is a big thing to ask of any team, even one as talented as Michigan State.
And remember, Connor Cook is now down his top two running backs and No. 1 receiver. The Buckeye offense is still up three quarterbacks, a top-3 running back, and a plethora of solid receivers. The Spartans don't, at least visibly, have the firepower to hang with Ohio State, so when the two teams collide Nov. 21, Michigan State's defense better have one hell of a performance, or the Spartans are going to be left out in the cold once again this year.
Is The Coach A Dick?
Mark Dantonio is an intense dude. Not Jim Harbaugh-level, but still. Spouting off, "pride comes before the fall" prior to a game of football is a wee bit overboard. In addition to speaking like a crazed old prophet, he enjoys being a nose picker—gotta do what you gotta do—and damn near died when his trick play worked to beat Notre Dame. He also took away a guy's scholarship for attending an Ohio State football camp, so yea, he's crazy and a bit of a dick.
Will Michigan State Do It?
Michigan State will ride Cook and its defense to a one- or two-loss season, but one of those losses will come at the hands of Ohio State, thus ending the Spartans' chances to do it.
Schedule
Sept. 4: @ Western Michigan
Sept. 12: Oregon
Sept. 19: Air Force
Sept. 26: Central Michigan
Oct. 3: Purdue
Oct. 10: @ Rutgers
Oct. 17: @ Michigan
Oct. 24: Indiana
Nov. 7: @ Nebraska
Nov. 14: Maryland
Nov. 21: @ Ohio State
Nov. 28: Penn State