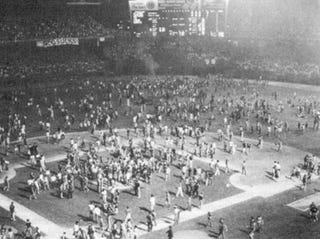 In an alternate universe, Deadspin's archives would cover the whole scope of human history. Occasionally, we like to revisit those timeless moments that we would have written about, if only we could have. Today: The night disco died.
July 13, 1979
Anti-Disco Promotion Forces White Sox To Forfeit
The White Sox and Tigers had a little trouble completing their doubleheader last night, since ... you know ... Comiskey Park was burned to the ground by rioting, disco-hating fans. You've done it again, Bill Veeck!
Last night was something called "Disco Demolition Night" in Chicago. A local radio station cooked up the promotion and fans were encouraged to bring their old disco records to the park so that they could be collected and destroyed on the field. With a bomb. They literally blew up the records in the middle of the outfield between games while fans changed "Disco Sucks." Hard to believe that something like that could go haywire. It's now officially the best idea since 10-Cent Beer Night.
So after the demolition, fans decided to storm the field and start their own fires. And tear up the grass. And steal home plate. And take equipment from the dugouts. And basically turn Comiskey into the streets of Tehran. I think Harry Carey was mugged at one point. The good news is that anyone who brought a disco record with them got into the park for a dollar so it was probably the biggest sellout at the old dump since the Early Wynn days. Perfect weather for rioting! (The fans also figured out that 45s make perfect frisbees, much to the chagrin of players who were pelted with them.)
Eventually, the Chicago police were called in to restore order, 1968 style, and most of the drunks were swept off the field, but what was left of the grass was so trashed that the umpires—with a little prodding from Sparky Anderson—called the second game off. The White Sox lost by forfeit. Fucking hippies.
Why is everyone they so down on disco anyway? I heard that Village People song played at a game the other day—the one about going to the gym?—and everyone was getting up and doing a little dance to it. Even the kids! I think that's a fun little diversion that sports fans will never find annoying or played out.
Disco Demoliton: 30 years after Comiskey Park went up in polyester-fueled flames [Sports Pros(e)]
White Sox' 'Disco Demolition' Promotion Still Echoes in Baseball Lore [NY Times]