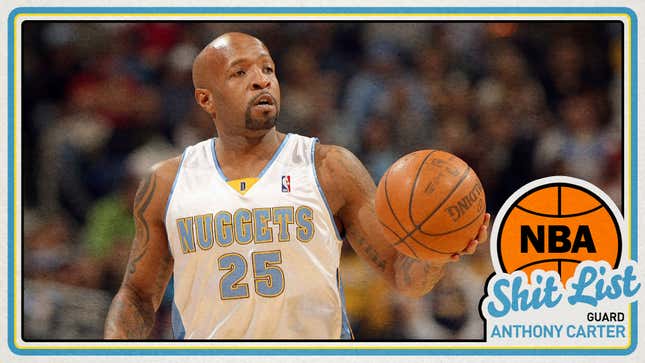 A celebration of the NBA's most infuriating players, both past and present. Read other NBA Shit List entries here.
How running an NFL team is like running a restaurant | Chef Emeril Lagasse
Anthony Carter didn't have a particularly ugly shot, a sour on-court attitude, or any destructive bad habits. He was not a good basketball player, to be sure, but he managed to suck without any of the flair that profoundly bad players like Kwame Brown and Jordan Crawford possess. Anthony Carter was always just kind of there, playing badly and quietly in equal parts.
What made his sucking noteworthy was where he was, while he was just there. I became familiar with Carter during the 2007-2010 seasons, when he was a prominent fixture within the Denver Nuggets' rotation. He'd had a cup of Gatorade with the Nuggets the year before, bouncing on and off the roster, and playing in two games. Prior to that, Carter had played seven forgettable seasons split among the Heat, Suns, and Timberwolves. He had established himself as an end-of-the-bench guard, never averaging more than 23.5 minutes per game, and was best known for missing out on a big payday because his agent misread his contract.
A player like that can enjoy a long, inoffensive career. Every team needs a few undistinguished guys to deepen the rotation. In Carter's first full year in Denver, though, George Karl saw something more in him. Karl's primary weakness as a coach is a tendency to put too much faith in veteran players. So in November, he looked at this 32-year-old nonentity and decided Carter should be the Nuggets' starting point guard.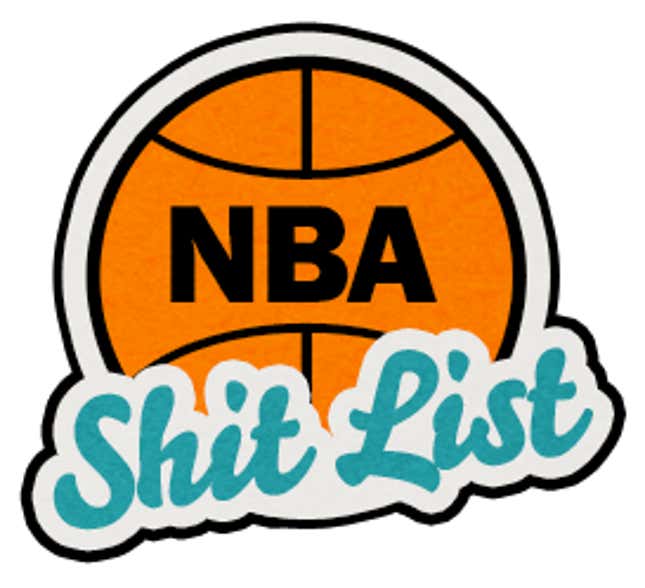 Those Nuggets were a complicated puzzle for a coach. They had two of the league's best high-volume pure scorers, having brought in Allen Iverson to join Carmelo Anthony the previous year, in midseason. There was a burgeoning frontcourt force in Nene, to go with a rejuvenated Kenyon Martin. There was J.R. Smith, 22 years old and brimming with unhinged athleticism. A franchise with a history of badness was finally trotting out a collection of players who were not to be fucked with—and also Anthony Carter.
Carter's presence in the starting lineup, on his way to a career-high 28 minutes per game, was a visceral buzzkill, a concession that Karl didn't really see how to assemble this talent into a functioning team. The coach didn't trust Iverson to play the point in the old-school fashion he saw fit, and so it was suddenly up to Carter to run an offense with Iverson, Anthony, and Martin. He was, as you might expect, ill-equipped for this.
The 5.5 assists per game that Carter produced that season weren't bad, but his 12.83 PER and 19.48 turnover rate were. Even those numbers don't really tell Carter's story, though. What does tell his story is the enduring image of him meekly passing the ball to Iverson immediately after bringing the ball across mid-court, and then just getting the hell out of the way.
Sometimes, a self-effacing guard is what a team of stars needs. Carter's deference could have helped the Nuggets if he had proceeded to spot up in the corner and drain unguarded threes, once Iverson and Anthony had drawn in the defense. Unfortunately, Anthony Carter is not a good shooter. He did have his finest three-point shooting season ever—which meant he hit a mediocre 34.9 percent, rather than his atrocious career mark of 25 percent. Regardless, he made less than one three-pointer per game.
So the Nuggets were essentially playing four-on-five when they had the ball. This can be an acceptable strategy when the wasted spot is occupied by a center or power forward who's just there to rebound and play defense. But not when it's held by a guard. Yet Karl continued to run Carter out there, insisting that the Nuggets needed his steady hand, no matter how rarely that steady hand might hit shots or create scoring opportunities.
And all this was while the Nuggets were supposed to be climbing to a state of legitimacy in the NBA's Western Conference. More than his meager statistical contributions, what made Carter so depressing was his physical presence—a human asterisk, pointing to a grim footnote: This isn't really working.
You've probably watched a little kid try to dribble a basketball before, one that is regulation-sized and far too big for his little hands and arms to control properly. You've seen him push the ball into the ground tentatively, and you've seen his eyes fill with panic as the ball returns from the ground, rising much higher than he had intended it to and nearly escaping his ability to control it. At the last moment his stunted motor skills finally fire into action, and he is able to awkwardly corral the ball by the time it reaches the height of his neck and push it towards the ground again, thus repeating the entire process. It's a futile, awkward thing to watch, even for the most uncoordinated among us.
I swear to god, I've seen Anthony Carter do this. On the whole, he was a decent ball-handler, but every now and then the ball would get away from him a bit, rising higher than it should and making him look small and helpless as he quickly reined it back in and continued dribbling like a real basketball player. It was during those moments that I was reminded of a painful truth: The Nuggets were still the Nuggets. Despite their high-powered offense and newfound winning ways, they were still a team that had a starting point guard who could at times be overwhelmed by the mere size of a basketball.
Maybe—almost certainly—it was impossible for those Nuggets ever to have put it together. In the end, neither Iverson nor Anthony quite survived the clash of their outsized talents and similarly outsized needs. But with Carter, there wasn't even anything to talk yourself into. And so I saw Anthony Carter as the embodiment of the team's hopelessness. I sneered at him every time he passed the ball and floated his way out of the play. I cursed at the television every time George Karl reinserted him into the game just as J.R. Smith was starting to get hot. I shook my head like a prick every time the Nuggets' announcers praised Carter for his veteran leadership and started referring to him as "A.C."
These were all petty things for me to do. None of the reasons I came to dislike Carter were really his fault; he was just doing his best to play the hand that he was dealt. But I needed something to point at when trying to explain why this team that was supposed to be good actually sucked, and Carter—standing there and being useless while Anthony and Iverson ball-stopped the Nuggets' offense into oblivion—was the easiest thing to point at.
Then, in Carter's third year with the Nuggets, the team had one of its best seasons in history. They went 54-28, and got all the way to the Western Conference finals where they gave the champion-to-be Lakers one hell of a fight over the course of six games. A few weeks into that season, the team had traded Allen Iverson for Chauncey Billups, meaning that Carter could slide back to the bench and the starting lineup could finally start looking like a coherent unit of basketball players.
For a while, everything was going great in that series against the Lakers. Billups was orchestrating the offense like we all hoped he would and Carmelo Anthony appeared to be transforming into the complete player that he was supposed to be. He was scoring like crazy, crashing the boards, and even locking down Kobe Bryant with some inspired defense. With the series tied 2-2, the Nuggets were heading into Game 5 on the heels of a 120-101 victory. I felt good.
Yet I couldn't help but feel a lingering sense of dread based on what had happened in Game 1. With 30 seconds left to play, the Nuggets were down 101-99. Following a timeout, they were set to inbound the ball and run a play that would hopefully tie the game up. George Karl, convinced that he needed the steady hand of a weathered veteran to handle the inbounding duties, turned to Anthony Carter. And so Carter, all six-foot-one of him, found himself trying to get the ball past the unending length of Lamar Odom. That's when this happened:
After that play, Carter was a non-factor for the rest of the series. Even though the Nuggets managed to bounce back, I couldn't help but worry that they had blown the series in Game 1. Of course, they melted down in Games 5 and 6, and the entire team would be blown up soon afterwards. There were a lot of things that went wrong during those final two games, a lot of things that demonstrated once and for all that the Nuggets had gone as far as they would ever go with that particular roster. Nene was never going to become the dominant center we thought he could be, J.R. Smith would always be more mercurial than he was explosive, and Anthony would never really coexist successfully with another star.
I understood all of these things, but I didn't quite see them as the Nuggets walked off the court at the end of Game 6. All I saw was Anthony Carter. I saw him once again—in the wrong place at the wrong time—passing the ball straight to Trevor Ariza, and I muttered, "You suck, A.C."
Image by Jim Cooke