If you want to upgrade your sound system, the Wirecutter's favorite bookshelf speaker pair is only $60 today. These usually sell for the full $130 MSRP, so you absolutely shouldn't wait to purchase. [Pioneer SP-BS22-LR Andrew Jones Designed Bookshelf Loudspeakers ($60) | Amazon
Need a little more oomph? Pioneer floorstanding and center channel speakers are also nearly half off today.
Pioneer SP-FS52-LR Andrew Jones Designed Floor standing Loudspeaker (each) ($70) | Amazon
Pioneer SP-C22 Andrew Jones Designed Center Channel Speaker ($50) | Amazon
---
G/O Media may get a commission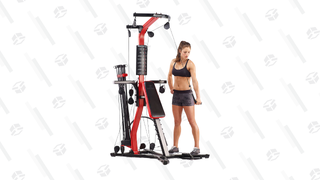 31% Off
Bowflex PR3000 Home Gym
$200 for a Chromebook is a good price. $200 for a Chromebook with a 14" screen is a great price. $200 for a Chromebook with a 14" screen and free T-Mobile 4G data for life...well, you get the idea. [refurb HP Intel-Powered, 4GB, 16GB SSD, Chromebook with 200 MB T-Mobile 4G For Life, $200]
Update: Sold out
---
We love travel routers, wireless storage, and external chargers; now you can get all three in one convenient package for just $30. [ LOFTEK Wireless Travel Router with Wireless Storage and 5200mAh External USB Charger, $30 with code QZTNT4IX]
---
We've had a nice little run of Dustbuster deals over the past couple of weeks, but here's one for $20 if you still don't have on. [ Black & Decker BDH7200CHV 7.2-Volt Cordless Dustbuster, $20]
---
Smoothies to go have never been easier. This compact blender and 20 ounce sports bottlecombine to create custom drinks no matter where you're going. [Oster My Blend 250-Watt Blender with Travel Sport Bottle, $19]
---
These remote-controlled programmable outlets aren't as smart as WeMo switches, but at less than $4.50 each, it's tough to complain. [ Etekcity 5-Pack Auto-programmable Function Wireless Remote Control Outlet with 2 Remotes, $22 with code OFF9938U]
---
No matter how long you've been driving, it's never too late to learn better habits. Automatic is a little Bluetooth dongle that plugs into your car's OBD-II port (found on almost any car made since 1996) and communicates with your phone to track driving habits, mileage, and engine problems. Best of all, if you're in an accident, Automatic will automatically alert the authorities and call your family, no subscription required.
Automatic normally goes for $100 around the web, but today you can take a $20 discount. [ Automatic, $80]
---
This popular deal is back again, so if you have any loose tools lying around, be sure to grab one before it sells out. [Stanley 12.5-Inch Toolbox, $6]
If you prefer a soft tool bag, here's one for $10 as well. [Stanley 12-Inch Soft Sided Tool Bag, $10]
---
After a thrilling round of voting, the Audio-Technica ATH-M50s won out as your favorite pair of headphones. They're actually only $119 right now, which is definitely on the low end of their price range, so it's a great time to buy.
---
You've seen our upcoming game release calendar, but now we've given movies and TV shows the same treatment.
---
Want all of your deals earlier, and all in one place? Be sure to follow Kinja Deals.
---
Home
Kitchen
Fitness
Camping and Outdoors
Tools
Auto
Pet Supplies
Kids
Apparel
Home Theater
TVs and Projectors
Home Audio
Streaming Boxes
Entertainment
Blu-ray
Digital
Anime
DVD (items that are not available on blu-ray)
Inventory
Apps
iOS
Android
---
More Deals, More Gear, More From You
Get all the best deals, all the time on Kinja Deals, or check out one of our curated segments on Kotaku, Gizmodo, Lifehacker, io9, Deadspin, and Jalopnik.
Follow us on Twitter and Facebook to never miss a great deal.
Join in on Kinja Co-Op to find the best products and argue for your favorites, and follow it on Pinterest.
Never miss the next big release or limited edition with our Game Release Calendar and Movie and TV Release Calendar.
Fancy yourself a deal hunter? Post great deals we missed in any of our comments sections (with links) and we'll share your comment right to Kinja Deals.
This post is brought to you by the Commerce Team. We operate independently of Editorial, and if you take advantage of a deal we recommend, we may get a small share of the sale. We read the comments, and we want your feedback.