Center DeAndre Jordan will sign a four-year, $80 million-plus max contract with the Dallas Mavericks, reports ESPN's Marc Stein. Jordan was reportedly deciding between accepting Dallas' offer and one from his now-former team, the Los Angeles Clippers.
Jordan is a solid pickup for the Mavericks, who lost Tyson Chandler to Phoenix in free agency. If Wes Matthews can come back at all from an Achilles injury—a huge if—a nucleus of Matthews, Chandler Parsons, Dirk Nowitzki and Jordan looks solid, though with no point guard and not a lot of depth, they will still struggle in the West.
The bigger takeaway from this deal, however, is the hilarious disaster the Los Angeles Clippers are turning into. Doc Rivers has been atrocious calling the shots, dealing away assets and crafting a paper-thin team that just lost their third-best player, and have no adequate way of replacing him.
Los Angeles didn't have a bench last season. They lost Matt Barnes but added Lance Stephenson and Paul Pierce this summer, the latter of whom probably would've been on the team last year if Rivers hadn't signed man-bun aficionado Spencer Hawes instead. (The Hawes signing also necessitated the trade of Jared Dudley and a first-round pick.) Hawes was a non-factor in his one season in Los Angeles, and was traded for Stephenson last month. But with the departure of both Hawes and Jordan, the Clippers don't have a center on the roster right now.

G/O Media may get a commission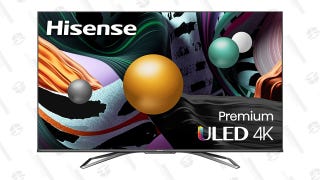 Save $350
Hisense ULED 65" Android 4K HDR Smart TV
Even with Jordan off the books, the Clippers have almost no cap room to sign a replacement. It's a huge step back for Los Angeles. On the other hand, it isn't clear that Jordan—whose defense isn't as good as his ferocious blocks suggest, and who can't really shoot or pass very well—is worth the five-year, $100 million contract the Clippers were trying to give him. His departure may give them the flexibility to fill out the roster with more capable parts moving forward. (A max offer for Jordan would have brought the team very close to the tax apron, which restricts the kind of deals teams can hand out.) The Clips still desperately need a backup point guard and a big man rotation after Blake Griffin.
But if more players think and act like Jordan, this "freedom" could only continue Los Angeles's downward spiral. Jordan has consistently credited Rivers's arrival two seasons ago with his massive leap as a player. But Jordan and his agent aren't dumb, and they see that Rivers's coaching acumen apparently doesn't extend to his general manager duties. Frankly, it appears that DeAndre Jordan is a better GM than Doc:
For now, one of the most entertaining—if hated—teams of the last few seasons will be significantly worse. By opening night, the Clips could be looking at a new big three of Chris Paul, Griffin and Kendrick Perkins.

Photo via Associated Press