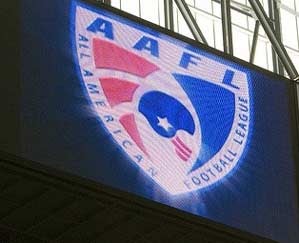 In all the hubbub about the NHL All-Star Game this weekend — careful: The Hubbub is contagious! — you might have missed the All-American Football League draft. It was as thrilling as you would expect.
Over at Snarktastic, they "sneaked" in and got a press pass, and it clearly changed their lives.
The press packet I have been kindly provided with informs me of exactly what the hell I am here to see. Considering that Knoxville is one of the main bases of operations for this new professional league, I find it suspicious that I only heard about this draft this morning.

Anyway, I am immediately struck by the realization that the AAFL itself has no idea what it is trying to be. In the same sentence, they refer to it as "a spring season college-style professional football league". Wait...so is this like NFL Junior, or NCAA Part Deux? "AAFL teams are comprised of many star players fans loved to watch in national college football hotbeds...where rivalries are fierce and competitive passions run high". I am so confused.
Apparently, this league will only draft and sign players who have earned a four year degree. This makes sense, especially considering that most NCAA football players who DON'T earn a four year degree failed to do so because they left early for the NFL. AAFL Football: Just like the NFL, except everyone knows how to read above an eighth grade level, and also, it's just like college, except with no fans and no excitement.
Yeah, pretty much! Catch the fever!
Live From The AAFL Draft [Snarktastic]