Titans tight end Delanie Walker likely had a terrible Valentine's Day. From the looks of things, his girlfriend Racine Lewin posted a photo of the couple from Walker's Instagram Saturday, along with a big wall of text that accused Walker of frequently cheating, and announced that Lewin's pregnant with a girl.
Lewin posted a photo of the roses from her Instagram yesterday, and a few hours ago, she explained why she blew up Walker's spot:
G/O Media may get a commission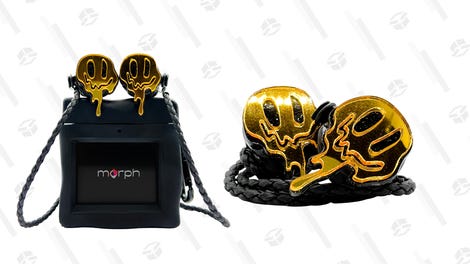 morph audio
Morph Earphones
The caption:
Thank u to those who support me. What I did was out of my character, but I guess after so long a woman really does get fed up. For all of you saying its my fault I stayed for 10 years... your right, but easier said than done when you love someone. It was really the death of our baby boy back in 2010 that made me stay... Promises of another baby, gifts, family, marriage, lies.... All really enticing to a girl who is already broken. The difference between then and now is age, maturity.. I am much stronger these days. Yes, I was hella weak and easily manipulated back in the day. I don't blame him entirely for being young, having money, and wanting his cake and eat it too.. But at this age, after 10 years, so many promises, and the start of a family I can no longer be weak. The last thing I want is our daughter to think it's ok or normal to be disrespected by a man. So it stops now, before she is born, one way or another. If we didn't love each other, we wouldn't have made it this far.. But love without trust, loyalty, or respect was bound to crumble. I made the move all the way to TN for him.. To love and support him like I always have. I told him all I want is trust loyalty and respect for one year.. If he could do that then I would marry him. But he failed, and I'm disgusted at this point. I want my daughter to have a father.. I want what every woman wants... Family, stability, trust. Lord knows..
There's a lot going on, here.
Top photo: AP