The Denver Post yesterday announced a two-week unpaid suspension for Avalanche beat writer Adrian Dater, after he blasted a young Kings player for a three-year-old "pussy play," got into a screaming match on Twitter with just about everyone, and slid into a another writer's inbox to tell him to "fuck off." It was a busy night for Dater.
The statement from the Post cites Dater's "inappropriate language used on Twitter."
The suspension, effective immediately, followed a number of exchanges with users on Oct. 4 and 5.

"Journalists need to recognize that they need to be professional on all platforms. Social media is no different," Post Editor Gregory L. Moore said. "The language Adrian used is unacceptable, and he knows it.
So what's the problem? On Saturday night, Dater, who writes as a featured columnist (level II) for Bleacher Report in addition to his Post job, took a shot at new Kings defenseman Brayden McNabb for a big elbow he laid on an Avs prospect in 2011.
G/O Media may get a commission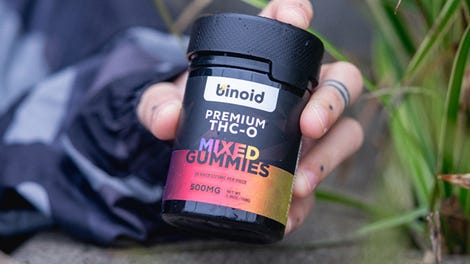 25% Off + Free Shipping
Binoid THC-O Gummies
---
It was a dirty hit, and McNabb has apologized for it. Dater had held his grudge for years, though, and made sure to call McNabb a "marginally talented punk" in his gamer. (At Hockey Buzz, Jason Lewis has put together a nice little history of Dater's McNabb jihad.)
That could have been the end of it, but that's not Dater's style. He spent the next couple of hours getting into it with readers who objected to his criticism, and especially his use of the word "pussy."
---
At some point, Jesse Spector of the Sporting News chimed in. Dater didn't respond at length on Twitter, but fired off this angry email:
Yeah, that's probably what cinched the suspension. Dater apologized on Sunday morning, but clearly not soon enough to avoid missing the first two weeks of the NHL season.
Also yesterday: the Hurricanes announced a three-week suspension for rinkside reporter Chantel McCabe after her Saturday arrest on DUI charges. It was a busy weekend for the hockey media.
Top photo via