Just before last Saturday's fight between Deontay Wilder and Luis Ortiz, I predicted a number of things would happen when they met. I said that Wilder would win, most likely within the first three rounds. I stated unequivocally that in a legitimate fight Ortiz would beat Wilder in any manner he chose. I mapped out the business reasons that might have kept any promoter from risking a record-shattering box office unification showdown between Wilder and Anthony Joshua by putting the still untested Wilder in with an opponent as dangerous as Ortiz. I also dismissed Wilder's having power with any of punches, including his overhand right.
I was asked by a number of people whether I would retract any errors I'd made if things turned out to not cohere to statements made in my article. These questions continued online the day before the fight and didn't stop when I got to the Barclays Center.
Seated in the press row, I was introduced to Kelly Swanson (who'd I'd known very briefly through Rock Newman and Riddick Bowe years before) and Tim Smith. Kelly is President of Swanson Communications, the PR agency of record for Premier Boxing Champions. Tim is Vice President of Communications for Haymon Boxing and formerly a sports reporter for the New York Daily News and the New York Times.
Kelly and Tim weren't happy with me. They had a bone to pick.
Tim said, "We read your article that appeared in Deadspin. It was interesting. I don't think Kelly liked it."
G/O Media may get a commission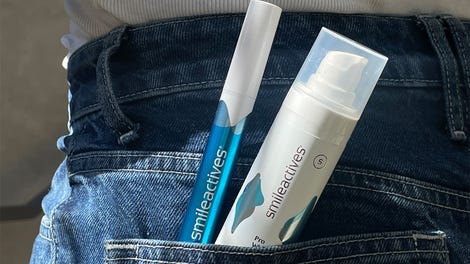 58% off
Whitening Powerhouse Pen & Gel Duo
"It was irresponsible and so unfair to Deontay," Kelly continued. "It's almost as if you're telling people that the fight has to be fixed in order for Deontay to win it."
"Not 'almost,'" I said. "I wrote that it would have to be fixed for him to win."
"That's terribly unfair. Deontay works so hard. And, if he wins, you won't give him credit for it. The damage is already done."
I suggested that I wasn't enough of a factor in the boxing business to do any damage, that what I'd written wouldn't cost the promotion one viewer—and might actually gain them a few—and that I'd already made plans for writing a follow-up in the event that I'd gotten things wrong.
"Well, I hope you do."
It was suggested that I spend some time with Deontay Wilder so that I could see what a good guy he was. It was also suggested that, because I no longer earned my living through boxing, I was out of touch with how the business worked. I was invited to "come back."
I like and admire both Kelly Swanson and Tim Smith. They're good for boxing. And they're Believers. Both told me that fights are almost never fixed, and never at the level under discussion. My problem with that is that I had personally fixed fights involving world champions, including heavyweights, and couldn't willfully undo what I knew to be true.
The three of us had walked along the road together for a short while, had reached a fork, and philosophically and ethically chose to go separate ways.
But I don't think that our differences here were as important on a true/not true level as they were in regard to how we saw boxing itself. I hope it's fair to say that both Kelly Swanson and Tim Smith—as well as most people who watch boxing—think of it along the traditional lines of self-sacrifice, willingness to take time and punishment toward the achievement of a goal that may well never come, and a kind of nobility that accrues from these general principles.
That's not how I see boxing. The overall consensus of people who love boxing is that veering off the path described above represents an immoral position. I'm often presented with descriptive phrases like "the dark side of the sport," "seamy underbelly," and "a colorful character."
I don't buy any of that. Life is complex and nuanced. "Good" and "bad" are unmediated terms, and they fluctuate depending on which side of the fence you sit on.
So here's my mea culpa, delivered without irony or reservation:
I was wrong about the fighters not fighting for real. Both tried their hardest.
I was wrong about who would win in a genuine fight. Deontay Wilder really did knock Luis Ortiz out. Ortiz only wound up bringing great craft into the ring. He was an old fighter that night. He wasn't even really hurt at the end, but he was totally exhausted. I was near ringside, and I am convinced of the legitimacy of the kayo.
I was also mistaken in some significant assessments of both fighters.
Deontay Wilder turned out to be, as advertised, a very good puncher with his overhand right. It is fast, hard to time, and has genuine power. When it landed on Luis Ortiz, it did damage. Ortiz was wary of it from the opening bell. Wilder is also dead game. He was rocked repeatedly during the fight, and always answered back fiercely, if not always with great focus. Finally, although he doesn't have a very good chin, Deontay Wilder has exceptional recovery time; he goes from being literally out on his feet to total alertness within seconds.
Luis Ortiz is not at formidable as I thought. This is mostly a factor of age—I guessed him to be about 45, and he looked every second of that on Saturday night—and the conditioning issues that often go hand in hand with it. Ortiz came in ready to go four not too fast rounds. Still, he knows how to fight. Ortiz is a beautiful boxer with marvelous footwork and he can really punch. When allowed to, he doles out his shots in a miserly fashion, but when forced into exchanges—as he was often during the later rounds—he tires quickly.
The attributes I attributed to him that would have made him unbeatable in the current heavyweight division no longer apply. I was mistaken about his being the best heavyweight in the world.
What I Saw
I saw a fight that Luis Ortiz was winning handily for four rounds by slowing the pace down to a walk and using craft. His lack of speed was evident, but so was the thoroughness of his craft. Wilder was uncharacteristically passive, and seemed both confused and awkward. There was a very real atmosphere of tension in the air at the Barclays Center. It was hard to shake the feeling that whatever was going to happen had yet to happen.
When Ortiz was dropped in the fifth round, he wasn't badly hurt, but he was diminished. The "King Kong" part of his equation was gone for good. Wilder's persona can easily withstand his looking wild, awkward, amateurish, and confused as long as he keeps throwing his big right, gesticulating, and looking to score the knockout. Ortiz, once he's no longer a monster, becomes just a good fighter. Hard enough to sell as the former, he is entirely unmarketable as the latter.
Precision is what put Wilder down in the seventh, and what almost finished him. He was out of things for much of the round, and there were referees who might actually have stopped the fight at a couple of points. The eighth was tough for Wilder too, but Ortiz had by that time lost much of the pop on his punches. And Deontay Wilder has no quit in him.
In the final round, the push-down that put Luis Ortiz on the canvas evaporated whatever was left of his resolve. None of the punches that finished him off during the two official knockdowns would have dented him a few rounds earlier. He wouldn't have beaten the count of the second knockdown, so there was no reason to bother ticking off the 10 seconds.
Two Bullshit Items
Since this is a piece written so I can own up to my mistakes about the fight being fixed, I probably shouldn't talk about two oddities that took place. I will anyway.
Referee David Fields made sure that, at a moment when Deontay Wilder was most ready to be knocked out, time was called. This gave the fast-recovering champion a much needed half minute of rest for no genuine reason. Luis Ortiz was deprived of a real opportunity to finish things. I can't say he'd have been able to do that. But Fields looked like the House referee in his actions here.
Make what you will of this, but at the time of the stoppage all three judges had Deontay Wilder winning by identical scores of 95-94. I spoke with at least 20 people at ringside—and with dozens of others since—and not one of them had the champion ahead on their scorecards. Make no mistake: Deontay Wilder won the fight by a real knockout. But he wasn't winning the fight at the time he did.
What I Conclude
By putting him in with Luis Ortiz, everyone associated with Deontay Wilder made a business decision that I found—and still find, despite its success—incomprehensible.
My inability to rejigger my own way of thinking about the ways boxing works at its upper levels of promotion and matchmaking caused me to make a major error in judgment. Assuming the risk/reward ratio of taking on Luis Ortiz in a real fight with something as financially enormous as the Anthony Joshua fight on the line was unthinkable, experience led me to conclude I'd surely see a fixed fight.
I was wrong. Deontay Wilder—who probably didn't think that he was gambling—gambled and won. Wilder's people—who probably worried about it—gambled and won. They were all milliseconds away from losing everything, but they pulled it off. It's a victory for them; it's a victory for the people operating in the business—people like Kelly Swanson and Tim Smith—who manage to somehow believe that boxing as a sport takes precedence over boxing purely as a business.
At the moment of the knockout, Kelly Swanson, seated in the first row, turned to me a few rows back and mimed typing. "Get busy." It was funny. I gave her a thumbs up.
Here's the piece I owe.