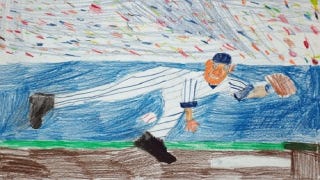 It's stupid to get angry at one particular casualty of the fans' All-Star Game voting, because they annually and reliably fail to select the deserving candidates at each position. But Derek Jeter's early accumulation of 40% more votes than the second-place AL shortstop is just too awful to let go.
This isn't sabermetric rigamarole: it's not that he never walks; it's not that his clutch hits are flukes; it's not that his advanced fielding stats don't match up with his image. It's that he's had a terrible year by any possible measure. Look at his 2011 line: he's on pace for career lows in just about everything except sacrifice flies. His current ground ball rate and line drive rate would be the highest and sixth-lowest, respectively, of any player since we started keeping track (2002). There are at most three full-time AL shortstops who are having a worse year offensively.
Jeter will have 3000 hits by July, so it won't look as heinous by the time the starters are announced. But he's had enough legacy all-star appearances already, having received an invite 11 out of the last 13 years. So please, vote for Asdrubal Cabrera and make sure that we get at least a vaguely deserving starter. (The guy with the highest WAR, Alexei Ramirez, isn't even in the top 5, so that's a lost cause.) Extreme apathy is the only other acceptable recourse.
Bautista leads, but Yanks rack up All-Star votes [MLB.com]

Derek Jeter [FanGraphs]