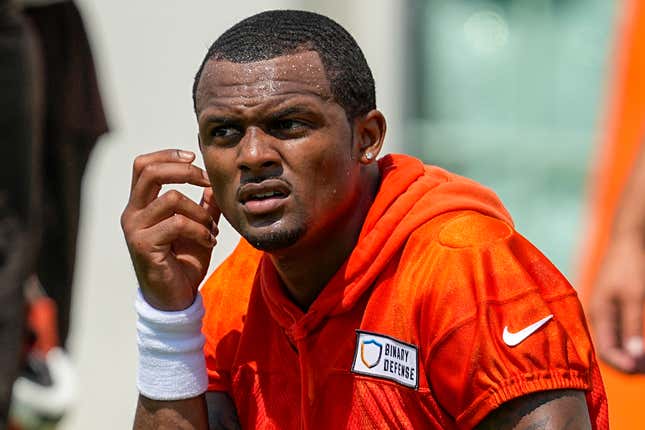 Deshaun Watson is great at reading defenses — he's completed 67 percent of his passes and thrown for over 100 touchdowns and 15,000-plus yards in his career. But, what Deshaun Watson is not great at, is reading the room. He has a history of it.
The redemption story the Cleveland Browns starting quarterback is trying to complete is destined to get intercepted.

Part one:

"Why are you all always filming me every day? It's the same sh*t."
That's what Watson said during the summer of 2021. It was caught on video as the then-Houston Texans quarterback was walking off the field at training camp. For some odd reason, he couldn't understand why he was the focus of all the attention. At the time, one of the faces of the league had been listed as the Texans' fourth-string quarterback, wanted to be traded, hadn't spoken to the media in weeks, and had been accused of sexual misconduct by at least 22 women.

I guess he was confused.

Part two:

"Look, I want to say that I'm truly sorry to all of the women that I have impacted in this situation. The decisions that I made in my life that put me in this position I would definitely like to have back, but I want to continue to move forward and grow and learn and show that I am a true person of character and I am going to keep pushing forward."
That's what Watson said during the summer of 2022. In case you forgot, "with everything going on," Watson didn't take one snap during the 2021 season for the Texans, as he was accused of sexually harassing or assaulting countless women during massage therapy sessions in 2020 and 2021. (The quarterback has denied the allegations.) When it was all said and done, Watson was hit with a $5 million fine — after he was traded to Cleveland, where he would sign a fully guaranteed five-year, $230 million contract with the Browns — and suspended for 11 games in 2022. Judge Sue L. Robinson concluded that he violated the NFL's personal conduct policy, and called his behavior "egregious" and "predatory." She also pointed to his lack of remorse. At the time, Watson had settled 23 of 24 civil lawsuits against him. The Texans also settled Watson-related claims from 30 women.

I guess "the media" should have ignored all of that.

Part three:

"Things that people don't really get to hear about. Especially last year, it's been the media directing and narrating something else. ... [my story] has been kind of overshadowed."
That's what Watson said during the summer of 2023. He's on a rehabilitation tour trying to clean up his image as he's told "the media" how "the whole situation changed me," as he's trying to be a leader in the locker room for the Browns. He's already addressed the team and was said to have "shared personal details from his life."

This is what forcing a pass to a wide receiver who's being double-teamed looks like in real life.

"The media" didn't direct or narrate anything. We followed the facts and reported on a story that consumed the NFL for over a year due to the willful actions of a grown man. At this point, it isn't about if you believe Watson did it or not. We have a public apology from him, which is an admittance of guilt on some level — which were his words, not the media's.

Deshaun Watson did this to himself. The media was there to document it, just like they were when he was working with Habitat for Humanity or scoring touchdowns. You can't have it both ways. And when you try to, it always ends in a turnover.