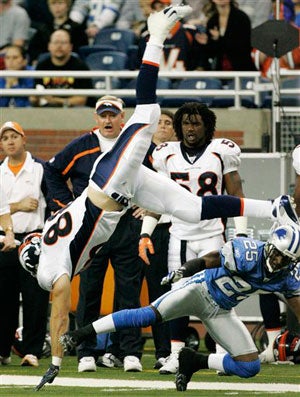 The appetizers leading up to the Colts-Patriots were actually rather satisfying. Most of the games were very close in the fourth quarter, and a very large defensive lineman had to run fast. The Patriots-Colts, Texans-Raiders, and Seahawks-Browns are the only afternoon games. But first, let's look at the hefty 1:00 schedule:
Among all the petty forms of entertainment within football games, perhaps nothing tops the lineman running an interception back for a touchdown. Shaun Rogers intercepted what looked to be Patrick Ramsey's screen pass, or maybe Patrick Ramsey had the same thought I did and just wanted to see the fat man jiggle down to the end zone. Lions 44, Broncos 7
I'm thinking back to Week 2 when the Bengals played the Browns, and everyone thought it was going to be a touchdownfest for Carson Palmer. (And we were right.) We didn't count on, however, a defense who basically escorts the opposing offense forward. Cincy gave up over 300 yards passing. Chad Johnson will look back upon the 20?? season as one of the low points of his career. Bills 33, Bengals 21
Kurt Warner's back, but unfortunately it's the 2002 version of Kurt Warner, who ended up with 10-of-30 for 172 yards and two interceptions. Buccaneers 17, Cardinals 10
Antonio Cromartie scored a 109-yard-missed-field-goal-return-for-touchdown, the longest play in NFL history. There have been six "longest plays in NFL history" in the last three years, it seems. Reminds you of the guy from college who annually proclaims he's going to graduate. Vikings 35, Chargers 17 (Update: Adrian Peterson ran for a lot of yards in this game. Damn near 300, in fact.)
Tennessee had only 236 total yards of offense and four turnovers. And they still won by 13. This has to make Carolina the worst 4-4 team in NFL history. Titans 20, Panthers 7
With a minute-or-so left in the fourth quarter, Alex Smith and the 49ers had a chance to score the game-winning touchdown, provided they went the length of the field. You can surmise how this one ended. Yep, turnover. Falcons 20, 49ers 16
It took more than 60 minutes for the Jets to lose a football game. That's impressive for them. Redskins 23, Jets 20
Brett Favre extends his touchdown and interception record by adding a couple of each. So did Damon Huard, but since Huard has less fun than Favre, not to mention less Tecmo Bowl gravitas, that's why his team lost. Packers 33, Chiefs 22
There was a total of 899 passing yards betwixt Quinn Gray and Drew Brees. And only four syllables. That's a 224 yard-to-syllable ratio, by far the best in NFL history. But New Orleans avoided what one may call "turnovers" en route to an impressive win over the usually-impressive Jaguars. Saints 41, Jaguars 24
Product Placement Tangent — Seeing a commercial for stuffed crust pizza reaffirms my disbelief in the product. So because there's mozzarella in the crust, I should eat it first, because it's not like there's mozzarella cheese anywhere else on the slice. Now, if the crust were to be stuffed with bacon, then maybe you have something there.