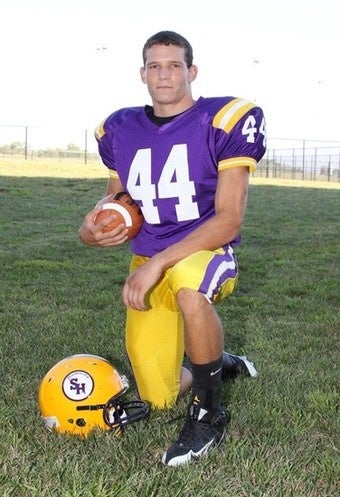 A Kansas City-area high school football player died on the field Thursday night; Ron Stiles said his son Nathan "suffered a concussion in the school's homecoming game earlier this month ... he had been cleared to play Thursday."
According to the Kansas City Star, he also said there weren't any malicious hits.
This could be the first direct football death nationwide this year, said Fred Mueller, director of the National Center for Catastrophic Injury Research at the University or North Carolina Chapel Hill.

There have been 10 other indirect football deaths this year that can be attributable to heat stroke, a heart condition, asthma or something else.

The Miami County Republic reported that coach Anthony Orrick said after the game: "I think he just hit the ground pretty hard with his head. He came on the sideline and told one of my assistants 'my head is really hurting."

Then he sat down on the bench, stood up and collapsed, the coach told the Miami County reporter.

Stiles was having an enormous game, Gulley said. He had run for a 65-yard touchdown and an 18-yard touchdown before he collapsed.
• Spring Hill football player dies [Kansas City Star]
• The NFL's Hit-Porny New Safety Video: The Director's Cut [Matthews]
• No One Gives A Shit About Cheap Shots [Magary]
• What If Potential Concussion Victims Don't Want The NFL To Crack Down? [Petchesky]
• Must-Watch TV [Hickey]
• The Year In NFL Concussions (So Far): A Horrifying Video Compilation [Deadspin]