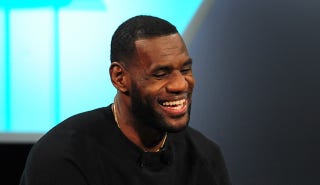 Above is a picture of LeBron James that was taken on Sept. 16. Something looks a little different about him, no? That famously receding hairline of his is suddenly looking a little fuller, which leads us to ask the obvious question: Did LeBron get hair plugs? Let's investigate!
Let's start by putting that same picture of the new, hairier LeBron next to one that was taken of him in June.
HMMMMM.
OK, now let's take a look from another angle. On the left is another picture of LeBron from June, on the right is one that was also taken on Sept. 16:
HMMMMMMMMMMMMMMMMMMMMMMMMMM.
But there's more! When browsing through a collection of wire photos of LeBron, I noticed that he's been wearing a hat at public appearances quite a bit lately. Perhaps he was trying to hide his new plugs until they had fully taken root. Here he is at a screening on Sept. 12:
INTERESTING.
And here he is at an event on Aug. 8:
VERY INTERESTING.
And we see him out and about in Taiwan on July 25:
INTEEEERRRREEEESTIIIIIIING.
LeBron probably got hair plugs, you guys.
All photos via AP and Getty