The New York Post did some more homework on Tiki Barber and his 23-year-old lady friend by interviewing everyone who has ever known, lived with or served the duo pasta. The question now is who you choose to believe?
Ohtani has the WBC, but will Mike Trout ever lead the Angels to a championship? | Agree to Disagree
The Post tracked down many, many anonymous sources who were eager to talk about "long-tressed temptress" Traci Johnson, including school friends, her parents' neighbors, "NYC nightlife" sources, and a waiter at an upstate restaurant who allegedly served them six months ago. (The Daily News got the better photos though.) It's probably easier to just list all the allegations in today's story and let you decide which seem the most plausible.
• When Johnson was a student at Mount St. Mary's, she did a senior project about Barber's series of children's books and because of that, Barber was invited to speak on campus. (The story doesn't make it clear if she met him before or after she decided to do the project.)
• Johnson's college boyfriend also worked on the project and she "told him that she and Tiki were 'just friends,' but nobody bought it."
• Barber sent 21 dozen roses to her dorm room on her 21st birthday, bought her a diamond and sapphire bracelet and a dog, among other lavish gifts.
• "One night, he sneaked into her dorm and stayed over the night," the source said. "The next day, Traci didn't want to let him out of her room to use the bathroom because she was worried someone would see him and catch them."
• He gave her and and her friends Giants jerseys to wear on Halloween. (Great costume, by the way!)
• Johnson told her family that she was "babysitting" for Barber's kids and her father proudly repeated that claim to neighbors.
• Barber recommended Johnson for an internship at the Today Show. While working there, a producer warned her not to be seen having lunch with Barber in public.
• Johnson was elected her school's homecoming "princess."
• Barber took Johnson to the Vancouver Olympics and introduced her as his "assistant."
• Johnson is a "wild party girl" who bragged that Tiki paid her rent.
• Her parents' house was recently foreclosed on. (Geezus.)
• Tiki's lawyer wrote the book, "Prenups for Lovers: A Romantic Guide to Prenuptial Agreements."
G/O Media may get a commission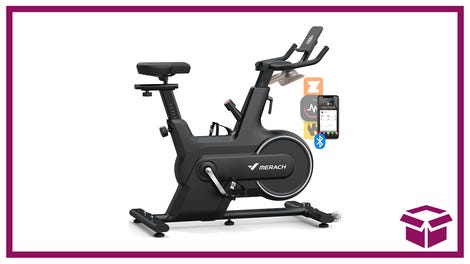 14% off + Coupon
Merach Indoor Cycling Bike
Meanwhile, anonymous sources on Barber's side deny pretty much every single one of those claims. Except for the one about the lawyer. ("They're just nauseating lies," a business partner says.) But no one denies that they're currently dating and the waiter totally saw them together last year, so case closed. ("His wife is Asian and the woman he was with was definitely not Asian.")
Still, the image of a retired former football player sneaking into a college dorm room for a little late-night nookie is pretty amusing. Maybe he spent all his Holiday Inn Express money on flowers.
Tiki's 'babe' sitter [NY Post]
Ex-Giant star Tiki Barber's girlfriend, Traci Johnson, told her family she was just babysitting [NY Daily News]
Tiki's troubles quickly get more twisted [ProFootballTalk]