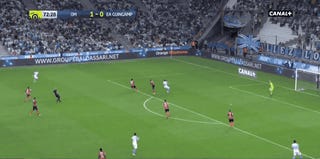 Remember when Dimitri Payet came to the Premier League a few years ago, immediately set the world on fire by single-handedly transforming West Ham into must-see TV with his gasp-inducing talent and irrepressible flair, and then jilted all those new fans he'd earned right when we were starting to get used to his genius being a regular part of our lives? Remember how much of a bummer that was, knowing that we'd been robbed of continual access to said genius when he skipped on back home to France?
Well then, this video of the wondergoal Payet scored for Marseille against Guingamp this weekend might be a little bittersweet. Sweet because my god, does Payet still have every ounce of It. Bitter because dammit, I want to see him doing this every week!
Last year, in his first full season at Marseille, Payet piled up six goals and thirteen assists in 31 Ligue 1 appearances. In the first five matches of this campaign, the 31-year-old has three goals and two assists. The Premier League never should've let this man out of its grasp.