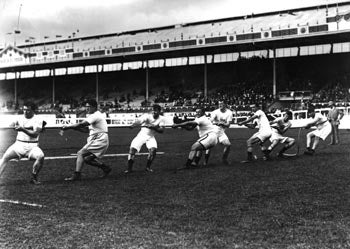 As we head towards the homestretch of the potential disaster that is the 2008 Olympics in Beijing, sometimes it's illustrative to look back at what used to be. (Cue Boyz II Men). Wipe away tears. Yep, discontinued Olympic events, they used to have an underwater/holding your breath contest. Those were the days.
My favorites:
"Duelling pistol (1906): Shooters fired at mannequins wearing frock coats and bull's-eyes on their chests."
"Rope climb (1896, 1904, 1924, 1932): Using only their hands, competitors try to see how fast they can get to the top of the rope."
And the always underrated: Motor boating (1908)