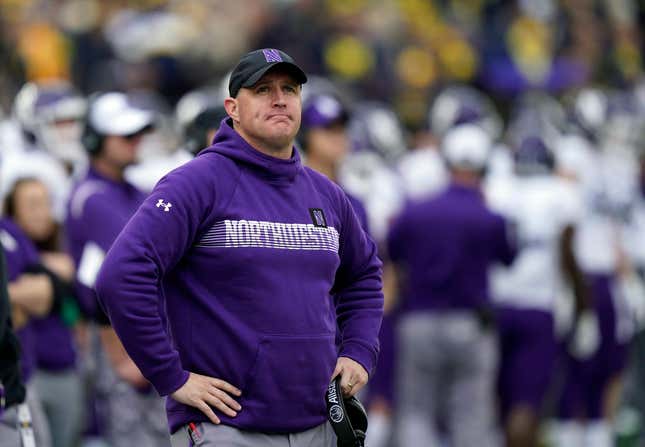 What do you do when the adults in the room are making childlike mistakes? Nothing, if you're a part of the administration at Loyola Academy in suburban Chicago.
Should Northwestern have fired Pat Fitzgerald before the hazing scandal? | Agree to Disagree
Weeks after Northwestern got rid of former head football coach Pat Fitzgerald for "allegedly" allowing his program to run rampant with hazing and racism for years — due to a failure of leadership — the school where his kids attend couldn't wait to bring him on as a volunteer coach — due to a failure of leadership.

According to a recent report from ESPN, "Fitzgerald, who coached Northwestern from 2006 until his firing July 10, went through multiple trainings and a background check and signed a code of conduct, required for all of Loyola's coaches and volunteers."

As if those requirements magically erased what Fitzgerald is accused of.

No one should want anything to do with anybody connected to Northwestern's athletic department right now, especially allowing a man who worked within an athletic department that's facing similar accusations in other programs. It's why the decision to keep Fitzgerald's staff in place was proof that Northwestern is a joke. That was further proven when some of those holdovers wore "Cats against the world" shirts — featuring Fitzgerald's No. 51 from his playing days — as they tried to turn a man who "allegedly" has victims, into a victim.

You would expect these types of shenanigans from a high school football powerhouse in Texas, not some expensive academy in the wealthy suburbs of Chicago.

Here's the statement, in full, that Shelby Walchuk — a 2005 alum — who serves as the Associate Director of Communications/Public Relations at Loyola Academy sent to Deadspin.
"Beau Desherow '93 was named head coach of the Loyola Academy varsity football team in the spring. He takes over for longtime coach John Holecek, who led the Ramblers to IHSA 8A state championship titles in 2015, 2018, and 2022. Coach Desherow looks forward to continuing this tradition of excellence as he prepares for the 2023-2024 season. Supporting him are many assistant coaches as well as parent volunteers, who provide an invaluable service to all of our athletic teams — indeed, our entire Loyola community — assisting with gameday management, logistics, offering fresh insight, etc.

Among other volunteers, current parent Pat Fitzgerald P '23, P '25, P '27 will serve as a volunteer for the football program.

As required by Loyola Academy, the Archdiocese of Chicago, and State of Illinois, all Loyola Academy coaches and volunteers must complete a number of trainings, background checks, and sign a code of conduct agreement.

Coach Desherow is laser-focused on the season ahead, which starts with the Ramblers' first matchup vs. Catholic Central High School (MI) on Saturday, August 26."
Are all the "elite" schools in Illinois this pathetic?

Two of Fitzgerald's sons are enrolled at the school, as his older son was too — before he went on to be a walk-on at Northwestern and was thrust into the "alleged" environment that was allowed there. ESPN has reported that he "remains on Northwestern's roster but is not practicing and is working as a student assistant."

I wonder why.

Hmmm.

To truly understand how troubling this situation is, the "co-educational college preparatory school rooted in the Jesuit, Catholic tradition of St. Ignatius of Loyola," tuition for the 2023-2024 school year is $19,250. It's a bargain compared to the $91,290 price tag it costs to attend Northwestern. Rich people love to waste their money by making dumb decisions.