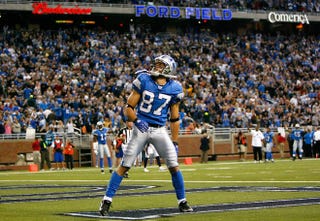 We don't believe it either, but the Detroit Lions are 6-2, with four winnable games coming up. What the heck is going on?
Even though some people think they still won't make the playoffs, the Lions turned a few skulls this weekend with their trashing of the Broncos. We're not quite sure it means Matt Millen is a sudden genius, but clearly, Jon Kitna is receiving messages from God, and they're telling him to make fun of his assistant coaches.
As some of you might know, we're longtime friends with Michael David Smith of The Fanhouse, and ever since college, his Lions and our Buzzsaw have seemingly played each other every year. (This is because they're usually both so awful.) We bet every year on the game, and this year, we're betting a post on it. So when the Lions crush the Buzzsaw this Sunday, look for that. Maybe he can explain what the hell's going on.
(Getty Images Photo)