You gotta feel for Dominic Raiola. The Lion's center was the second player ever drafted by Matt Millen and has been forced to play every single game of his terrible reign in Detroit. So Dominic is understandably frustrated with the way his otherwise successful career has developed. Can anyone really blame him for flipping off his home crowd after their latest loss on Sunday?
The fans at Ford Field—the ones that show up—have gotten notably nastier as Lions head toward their 0-16 season. Or maybe they're just noticeable because the rest of the stands are so quiet that players on the field say they can hear individual taunts. Apparently, Raiola had enough on Sunday and gave a few hecklers a piece of his flexible middle finger.
"I don't take one thing back," Raiola said Monday. "I'll say the same thing to a fan that I see in the street. I wish I could give my address out to some fans. I'll do that.

"But, you know, I can't. Nobody plays with fists. Everybody wants to play with metal. So I can't.

"I'm so frustrated. I'm tired of being a doormat for people to just talk to us how they want to talk to us. I'm just not going to put up with it anymore."
I would personally like to seem him hand out business cards to fans after the game, printed with the time and place where he will kick their ass. Of course, that wouldn't make the Lions any better or solve the mystery of why Millen's removal seems to have only made the team worse. He was fired ten games ago and Detroit is more pathetic than they've ever been. That must explain the rumor from NFL "sources" that Millen is still secretly pulling the strings in Motown.
Two different National Football League sources - one of them close to the Fords - insist that the Millen firing earlier this season was just a ploy to appease angry fans of the 0-13 Lions and that Millen is still calling the shots and on the club's payroll as a consultant. One NFL scout acknowledged that this rumour is making the rounds through the league and that while he couldn't absolutely confirm it, it wouldn't be shocking news to many in the football world. "It wouldn't surprise me at all," he said. Added another NFL personnel type: "Whoever is calling the shots, they're doing a terrible job at it."
G/O Media may get a commission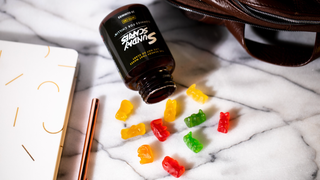 10mg CBD Gummies (22-Count)
I don't think I buy it (although Millen and William Clay Ford Sr. are clearly BFFL), but the mere fact that it's completely plausible says something about the club. Maybe it doesn't say as much as the fact that Ford's actual business is even closer to folding than the Lions are, but it definitely says something.
Raiola: No apologies for response to heckling fans [Free Press]
Is Millen still calling the shots for the Lions? [Windsor Star]
MILLEN STILL RUNNING THE SHOW IN DETROIT? [World Of Isaac]
How Not To Build a Team: The Detroit Lions Draft History [Bleacher Report]