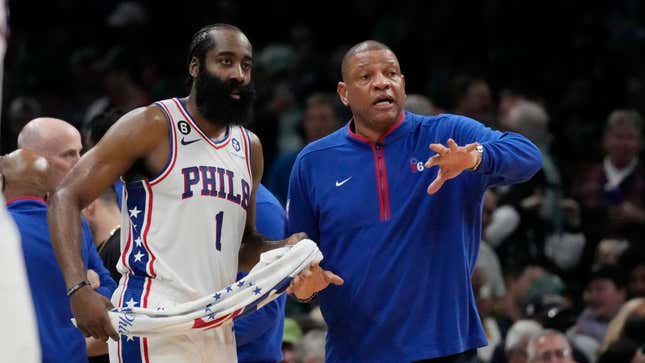 Doc Rivers came, he saw, and he squandered another opportunity to add to his ring count with a generational superstar at his disposal. Less than 48 hours after the Philadelphia 76ers came out punchdrunk in Game 7 against the Boston Celtics, Sixers brass launched Doc Rivers into the sun, possibly incinerating his coaching reputation with it. After three seasons, Rivers was never able to diagnose nor solve what ailed The Process. After trading for Harden in Jan. 2022, the expectation was they'd compete and advance into the Eastern Conference Finals posthaste. They never even made it past the semis.
Top 5 single digit scorers in NBA history
However, he showed up to L.A. in Black Santa shape and never rediscovered the pep in his steps that made him an MVP and scoring champ. In year two, he was worse, dunking only twice in the regular season, and playoffs. Rivers was destined to cross paths with Harden eventually. Both men's legacies are inflated by their regular season dominance and win total that ranks among the 10 highest in league history. Rivers is the James Harden of NBA head coaches. Once you peel back the exterior, you find a shallow list of achievements and a host of disappointing losses. In elimination games, Harden is a paperweight taking up space in the lineup.
Between Rivers and Harden, the Sixers were doomed. Rivers barely made impactful mid-game course corrections that rely on rolling the ball out to his star ball handlers and watching them operate in the pick-and-roll. For the better part of two decades, Rivers has been blessed with the most Idyllic jobs. In Orlando, Rivers was the victim of circumstance. However, their loss to the 2003 Pistons in the Eastern Conference Quarterfinals was the beginning of the Rivers playoff debacles. One championship in Boston gave Rivers a temporary grace period from scrutiny, but the league passed him by more, and more every season. In Los Angeles, Rivers blamed the chemistry for their inability to get over the hump.
Even the Doc nickname prescribed an expertise he never seemed capable of living up to. Rasheed Wallace, who spent three seasons on the Celtics indicated that Rivers was never a great tactician. He was a vanilla coach who rode the coattails of great players and even applied some drag on their upward trajectory at times. Harden should look in the mirror because he bears a stronger resemblance to Rivers than he imagined.
Doc Rivers' streak of leaping from coaching job to coaching job has to end somewhere. Maybe it ends here, or perhaps he has enough juice left to talk his way into the Phoenix opening or assumes the top job for whichever franchise wins tonight's draft lottery.
On Monday, ESPN's Ramona Shelburne reported on a rift existing between Harden and Rivers. The way Shelbourne relayed it, Rivers' return to the sidelines would have been the excuse Harden needed to exercise his opt-out clause and find a way to rebuild a nice retirement home in Houston. Harden's passive-aggressive response to a question Sunday pertaining to the state of his relationship with Rivers set off alarms that the Sixers chose to act on. Sixers team president Daryl Morey was always going to choose Harden over Rivers. Harden won the standoff. Unfortunately, for Rivers, the Morey-Harden dynamic has spanned a dozen years and two cities. Morey will never trade Harden, so naturally Rivers got the ax. But Harden is the other half of the equation Philly must account for. Year in and year out, he casually drifts through an elimination matchup without adjusting to opposing defenses or showing more effort. Harden has more in common with Rivers than he thinks. Eventually, the Sixers will realize that too.
---
Follow DJ Dunson on Twitter: @cerebralsportex