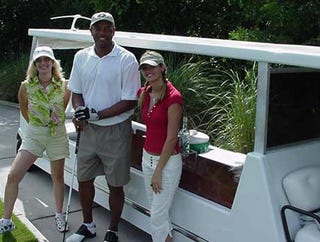 Doc Rivers must be on top of the world right now. Not only are his Celtics — perhaps in spite of him — in the NBA Finals, but he's feeling secure enough to start buying property ... in Las Vegas, of all places.
Rivers, proving he loves to spend his offseasons in quiet contemplation, just bought a penthouse in the Palms casino in Las Vegas.
The 520-foot tower features 442 600-square-foot studio units, 136 1,200-square-foot one-bedroom suites and 21 penthouse units that range from 2,000 to 7,000 square feet.

The price of the units rises with height. The studio apartments started at $450,000, increasing by about $7,000 per floor to $650,000. The one-bedroom units ranged from $700,000 to $1.2 million while the penthouses - on the top four floors of the tower - are priced to as much as $5 million.
We hope he doesn't end up in Robin Leach's blog. We all know how his blog devoted to cruelty, devoted to speed.
Doc Rivers Buys Palms Place Penthouse [You Been Blinded]