Who's a good dog? Yours is! It can be a bit of a mess, though.

Jami Attenberg, author and mom to celebrity dog Sir Sidney Morris Attenberg, PhD Esq., joined me for a spirited episode all about dogs, and the messes they make. This was also a first, in that I'd never before recorded in my apartment, which meant that Jami got to see—and share with all of you—how I actually live. (Spoiler: I live very, very cleanly.)
Here's what I covered in my 89th episode:
How to clean rope-style dog chew toys;
Treating odors in dog toys, whether you want to nuke them completely or retain a slight smell to appease your animal;
Instructions for washing hard plastic and rubber pet toys;
How to get a persistent doggie smell out of hard surfaces like natural stone or wood;
The crazy-easy trick for quickly picking pet hair up off of furniture;
A whole host of options for keeping carpet and upholstery clean in a home with active doggies (and kids!).
Thanks to one listener question, I had the chance to remind you that I love it when you share photos of your dogs, and even of your cats. I'll never share them without your permission, but I do really enjoy getting a peek into your lives. (This is your cue to post photos of your dogs in the comments.)
Over in the bonus episode, Jami had some things to say about my bathroom. We waxed poetic about great American cities, oysters, and the Oysterpedia. We also had a very real conversation about author paranoia, then Jami closed it out by talking about pet psychics and being a dog godmother.
G/O Media may get a commission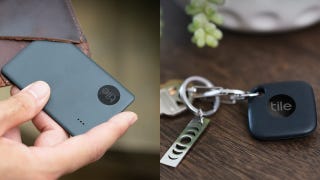 Up to 35% off
Tile Item Trackers
You can subscribe to Ask a Clean Person: The Podcast in Acast, iTunes, PlayerFM, Stitcher and all the other places you'd expect to find podcasts. For bonus episodes and all sorts of other cool rewards, head over to Patreon to help underwrite the show. Got Qs for the pod? Email Jolie with the subject line CLEANCAST.