Longtime Red Sox play-by-play man Don Orsillo is reportedly leaving NESN at the end of season. His contract is up and NESN's higher-ups don't seem to enjoy him. The company also mandated that announcers had to take days off, which reportedly didn't sit well with Orsillo. Hopefully, he'll move on to bigger and better booths.
Ohtani has the WBC, but will Mike Trout ever lead the Angels to a championship? | Agree to Disagree
In an attempt to not turn this into a eulogy, since the guy's not dead, the present tense will be used. Orsillo has a wonderful voice for play-by-play. Everyone will talk about the chuckles he has with Jerry Remy, and those are entertaining, but when a Red Sox game actually holds weight or drama, Orsillo's aware of it. Take the call from the Mother's Day Miracle, where the Red Sox scored six in the ninth against the Orioles:
Orsillo has a knack for going to maximum volume, but only when the situation requires. He strikes a perfect balance without being a loudmouth or underplaying big plays.
What about when there weren't memorable moments to call, though? Between the last two championships, the Red Sox have played a lot of baseball which could be described as "complete ass." (Thank you for your sympathies.) Even in unwatchable or meaningless games, Orsillo found something to talk about to keep the program running smoothly while John Lackey got shelled. The viewers don't need any incentive to watch the good games; in Orsillo, they had reason to watch the bad ones.
G/O Media may get a commission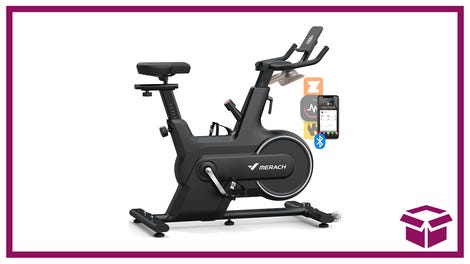 14% off + Coupon
Merach Indoor Cycling Bike
When there was a lull, however, Orsillo can create a classic moment without doing much at all. The Boob Grab and Broken Tooth Incidents are highlights of Orsillo's laugh, an occasionally hoarse, high-pitched, childish giggle, but nothing will top the Pizza Affair, unless someone goes to a game at Fenway before season's end and throws two pizza slices at another fan:
Even after the commercial break, you can hear Orsillo clearing his throat and trying to compose himself, but when he sees the pizza go flying, he loses it all over again. An otherwise professional man collapses into coughs and squeaks because of a pizza. He finds it just as funny as the rest of us.
Photo via @DonOrsillo
---
Contact the author at samer@deadspin.com.